Japan
UAE's Mahdi Ali: Japan scored with just two attacks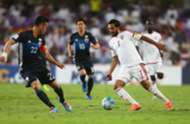 UAE suffered a 2-0 defeat at the hands of Japan on Thursday evening at Al Ain with goals from Yuya Kubo and Yasuyuki Konno.
The defeat saw UAE being placed on fourth position in Group B with Saudi Arabia and Japan leading the table followed by Australia in third.
UAE 0 Japan 2: Samurai Blue back in command thanks to Kubo and Konno
Questioned about his future, coach Mahdi Ali said, "It is not the time to tackle that issue here. In five days' time, we have another game, and it is the decision of the association to take, not me.
"I am a professional coach, so I am not thinking about (resigning). We have another game coming. We lost only three points here. We have not lost our chances to qualify. There are still 12 points to play for. I think we have to win the rest of the games, and we have to work hard to achieve our goals."
However, he pointed that his team should have scored a goal or two as they dominated the proceedings while the Japanese were clinical in front of goal.
"The match was difficult for us," he said. "We controlled the first half for much of the time, and created chances, but we did not score. In the second half, the same. Japan made use of two attacks and scored two goals. The match was hard, and despite the situations we faced, I'd like to congratulate my players for their efforts. Now we are looking forward," he mentioned.
UAE next travel to Australia next week in what is a decisive game for their hopes of making it into the 2018 World Cup.