A-League
Sydney FC focus is Perth not Premiership trophy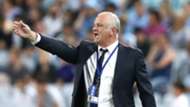 Sydney FC coach Graham Arnold has put the rest of the A-League on notice, believing his record-breakers can get even better as they focus on accruing three points in WA this weekend. 
After a dominant season, the Sky Blues will claim the Premiers Plate with three games to spare if they beat Glory in Perth on Sunday night.
But Arnold says they're not the finished product.
"I still believe we've got improvement left in us - a lot of improvement," he told reporters as the side prepared to jet out to Western Australia.
"We know we've got six weeks to go, six weeks that we're pushing to win all six games.
"There's a huge amount of belief in the squad.
"The players believe enormously in each other which is crucial, so I expect our form to pick up over the next six weeks to finish this off," he said.
FOCUS ON PERTH, NOT PREMIERS PLATE
Sydney FC could claim the Premiers Plate as early as Saturday night if Melbourne Victory fails to beat the Roar in Brisbane, but Arnold insists he's not thinking about silverware at this stage of the season.
"Until we get the three points on Sunday and perform to the best of our ability, there's no trophies being handed out yet.
"I don't want to think about those things until we actually achieve it.
"It's about preparation for the Perth game.
"We enjoy the trip to Perth; we've had a lot of good success over there in the past.
"We expect to do that again on Sunday," said Arnold. 
REDMAYNE READY TO DEPUTISE FOR SOCCEROO VUKA
The Sky Blues will be without first-time Caltex Socceroos Danny Vukovic and Rhyan Grant, but Arnold believes they have the depth to cover their absences.
"I have absolute 100 percent faith in anyone I put out on the field.
"Obviously Andrew Redmayne will come in for Danny Vukovic.
"Redmayne has trained exceptionally well - he's back working with [goalkeeping coach] John Crawley who's pretty much developed his career for him.
"I expect all the players I put on the pitch to perform at 100 percent of their ability."