Super League
Southern Tigers hitting the right notes with Guerra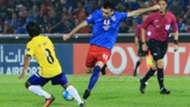 It is tougher to recognise a mistake and learning from it than it is to make a mistake. It's just human nature. Even for a club the size of Johor Darul Ta'zim (JDT) and their expert staffs and officials, they aren't immune to making mistakes either. 
Signing a new player is undoubtedly one of the most difficult part of football. It is one thing to see a player thrive at his current club, displaying the skills and abilities that piqued your notice, which make you think that - yes, this is the player I want for my club.
It is quite another when a player eventually joins because there are so many variables out there. The compatibility with the new team mates, playing in a new style that may or may not suit the player's best attributes, timing and luck are just the few things that can make or break a new player at a new club.
There are so many instances in world football that highlights this, which happens to even the most talented footballers in the world. Everyone remembers how Juan Sebastian Veron was one of the best playmakers in Europe but somehow Manchester United wasn't the right fit for him.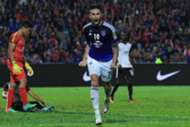 So it happens to a club in a much smaller scale like JDT, mistakes happens and what is most important is for the team to rectify the mistake. Jeronimo Barrales wouldn't be the worst footballer in the world but JDT in the Super League or JDT under Benjamin Mora just isn't the right fit for the Argentine.
When JDT acknowledged that they've made the mistake and move to swap Barrales with Gabriel Guerra, it is a daring admission of a mistake but on the flip side, they should be lauded for realising something was amiss and worked to change it.
JDT wasn't to know with Guerra either but it has since been a decision that has been vindicated. At this point of the season, Guerra has already scored 14 goals in 19 matches for the reigning Super League champions - proving beyond doubt that JDT has made the right decision with him.
It probably wasn't easy for Guerra either, stepping into the main squad. Here's a team with predecessors with large shadows that looms over any newcomers. Luciano Figueroa scored 23 times in the league over two seasons for JDT while Juan Martin Lucero bagged 27 goals last season - the pressure on Guerra to match or exceed those numbers is considerably high.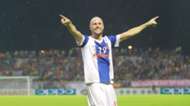 Yet, the 24-year-old Guerra is taking it all in his stride and if he can maintain his fitness and form - he's well on course to hit 28 goals this season should JDT advance to the final of the Malaysia Cup and the AFC Cup.
Should Guerra even come close to that projection, JDT could well be staring at another trophy-laden season in 2017 and JDT fans can thank PKNS FC for introducing one Gabriel Guerra to Malaysian football.