World Cup
Sources: Tab Ramos to work as World Cup analyst for Telemundo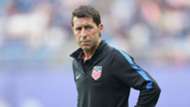 The U.S. national team won't be at the 2018 World Cup in Russia, but you can add another American with World Cup experience to the list of those who will be in attendance.
Tab Ramos has been hired to serve as a guest analyst on Telemundo during the World Cup this summer, multiple sources confirmed to Goal on Thursday. The formal announcement of Ramos's hiring is expected to be made in the coming weeks.
A member of the 1990, 1994 and 1998 U.S. World Cup teams, Ramos will be providing Spanish-language analysis during the World Cup's group stages, joining a Telemundo broadcast team that will also include legendary announcer Andres Cantor. Telemundo holds the Spanish-language broadcast rights in the United States for the World Cup.
Currently serving as the youth technical director for the U.S. men's national team program, and the Under-20 coach, Ramos most recently organized a youth national team summit in January, convening more than 150 top U.S. prospects.
Ramos is also considered a candidate for the U.S. national team coaching vacancy, a position that isn't expected to be filled until at least the summer.
Ramos was initially approached about taking on the caretaker role currently being held by Dave Sarachan, but chose instead to focus on continuing his work as youth technical director while the process to hire the full-time U.S. coach plays out.
Newly elected U.S. Soccer president Carlos Cordeiro is in the process of putting together a technical committee to hire the general manager who will ultimately be in charge of hiring the new U.S. coach. Ramos is considered one of the leading American candidates for the manager position.