Neymar
Santos confident after FIFA orders Barcelona to pay Neymar compensation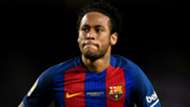 Santos have pledged to appeal to the Court of Arbitration for Sport (CAS) after being boosted by FIFA's ruling that Barcelona must pay the Brazilian club €2 million in compensation for the transfer of Neymar.
Keita pleads Leipzig for Liverpool move
The Catalan club remain mired in financial difficulty over the signing of the attacker from Santos in 2013. Neymar, Barca president Josep Maria Bartomeu and predecessor Sandro Rosell will all go to trial to face corruption and fraud charges after lying about the full cost of the transfer.
Santos launched a lawsuit against Barca in May 2015 as a result and complained to FIFA's arbitration court.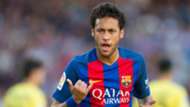 After the ruling body came to a decision, Santos say they received a favourable ruling this week that enhances their stance even further.
"FIFA announced a decision that Barcelona has been condemned to pay Santos the sum of €2m plus a 5% interest per year back to May 31 2015," a statement read.
"The governing body usually only reveals the final result of proceedings, so the legal basis for the decision remains unknown.
"However, the fact that the demand was approved has Santos considering that the arguments presented to FIFA are solid, and sufficient to demand an even higher fine than already requested.
"Therefore, SFC is confident of its rights and has more than enough evidence of the severe violations perpetrated by the defendants. In that sense, the Spanish court already declared on May 4, 2017, that the defendants "have failed to comply" with FIFA regulations.
"That said, SFC will appeal to CAS, which will solve the dispute and the club is confident of winning a more favourable decision there."