Paul Pogba
Pogba is a massive player for United and his transfer record will get broken, says Conte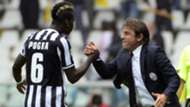 Antonio Conte thinks Paul Pogba is important to Manchester United's chances of achieving success in the Europa League and Premier League this season as Chelsea prepare for a visit to Old Trafford. 
Manchester United broke the transfer record to re-sign Pogba for £89 million from Conte's old club Juventus. The Serie A champions were managed by Conte when they initially signed Pogba for a £800,000 compensation fee after taking advantage of his refusal to renew his deal at Old Trafford. 
Chelsea clash is 'just a game' for Mourinho
Conte then helped the Frenchman to flourish in Turin, who became a key player, ultimately leading him to a big transfer back to his old club. Pogba has been criticised for his form since his big money move but Conte thinks that his former player is a "massive player" for United. 
"Honestly, I think he's a massive player, Paul," Conte told a news conference at Cobham Training Ground. "He's a really top player, a great talent, a complete player because he's strong physically, fantastic technique, good stamina, he's fast.
"He has the whole [skillset] of the modern player, and I think he's a really top player. I know him very well and I know he's a really top player. Very, very strong. I worked with him for three years and he arrived in Juventus very young.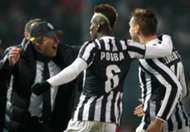 "But we understood very soon the capacity of this player. For this reason, only after three or four months, he was playing in the starting XI. Then he learned a lot that season, and also he's a player who likes to work and to improve himself."
"Paul is always a player who can change a game. I repeat: for me, he's a top player. He's a player who stays at a level so high."
Conte: Ibrahimovic has never been better
Gareth Bale broke Cristiano Ronaldo's world transfer record when he went to Real Madrid and Pogba then broke Bale's record last summer as he returned to Old Trafford. 
Conte went on to admit that he thinks that the amount of record spent on Pogba will soon be beaten, with the spending power of football clubs growing in recent seasons. 
"Yes, I think. I think so," Conte added. "I'm sure that, in the future, this amount of money... someone can pay more than for Paul. I'm sure about this."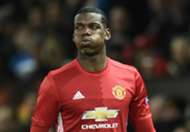 "If you ask me about him, I can tell you that, I repeat, he's a massive player because I know him very well. Then the amount of money that United spent on him, I don't know if it's right or not. But, for me, he's a top player. When you go to buy a top player, you must be able to pay a lot of money."