MLS
FC Dallas coach Pareja frustrated by late substitution situation in CCL decider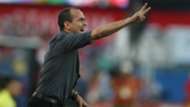 PACHUCA, Mexico — FC Dallas coach Oscar Pareja was left irritated by the final moments of his team's 3-1 loss to Pachuca that gave Tuzos a 4-3 aggregate win and passage to the CONCACAF Champions League final.
The series seemed destined for extra time after Cristian Colman's headed goal in the 86th minute, but a cross from Hirving Lozano got past goalkeeper Chris Seitz in the 92nd minute, sending Pachuca through.
Lozano shows European credentials in win
As the match entered stoppage time, forward Maximiliano Urruti went to the ground holding his groin. As FCD prepared to bring in a replacement, play continued with Pachuca eventually finding a goal that sent it through to the CONCACAF Champions League final as Urruti struggled to his feet near midfield.
"Look, I think (the press) and the fans after a game like the one we had seeing that for a minute and 15 seconds, you have to allow it if we want a substitution," Pareja said in Spanish at his post-match news conference. "We didn't get the substitution because it wasn't authorized, so we have to think that in a certain way, it wasn't fair play."
Pareja said the substitute was ready and the officials were aware, but with the ball not put out of play the substitute could not enter.
"The communication with the referee was done," he said in English. "We were just waiting for the authorization because the player was in the middle of the field waiting for the moment. We can not send the player in without being authorized. That was my frustration at the end of the game. But I have to respect that it is a game managed by the referees because they are the authority of the game and we have to accept that."
Is Jermaine Jones a must-start player?
But from the perspective of Pachuca coach Diego Alonso, FCD had the opportunity to get the ball out and instead tried to keep play going, hoping to get to extra time.
"Dallas are the ones who should send the ball out. There's a ball there where the goalkeeper gets it and gives it to the defense and then gets it returned. If you have a teammate injured, you don't put it into play," Alonso said.