World Cup
Optus Sport unveils inclusive World Cup subscription plan as it retains Premier League rights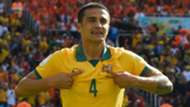 As the only broadcaster in Australia with rights to every game for the 2018 World Cup in Russia, Optus Sport has announced non-Optus customers can subscribe to their service for $14.99 a month.
The news is a welcome relief for football fans and is a move away from the company's subscription model for the English Premier League in Australia which requires viewers to be Optus customers to access their content.
The direct-to-consumer subscription for the World Cup can be purchased via Google Play and the App Store.
SBS are the other Australian broadcaster for the World Cup and will be showing 25 games compared to Optus Sport's 64.
In a busy morning for Optus, they also announced that they've retained their rights to broadcast the EPL in Australia until May 2022.
Optus CEO Allen Lew stressing the commitment the further three season deal demonstrates from the growing sports broadcaster.
"This shows our long-term commitment to provide exclusive premium content and our transition to be a multi-media entertainment provider," Lew said.