Omar Abdulrahman
Omar Abdulrahman move to Al Hilal on the cards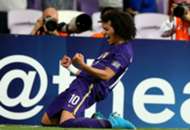 Once again, the rumours linking Omar Abdulrahman to boyhood club Al Hilal in Saudi Arabia have risen, with the news this time looking more concrete than ever as his contract with Al Ain ends in 6 months.
Although nothing has been confirmed yet – with Abdulrahman himself put in a tough situation – the most likely move on the table seems to be a 6-month loan during the winter transfer window to help Al Hilal with the rest of their season.
What this means after the end of his loan to Al Hilal has not been revealed yet, as expectations are that this will be a delay for Al Ain's board of directors, involved in a nationwide footballing project to cut costs, in terms of re-negotiating the big money contract of the player nicknamed "Amoory".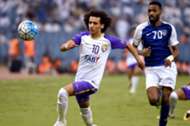 Over the years, many media outlets in the UAE have revealed how much Abdulrahman is reported to be making. With their being more than one figure released over the years, it has been confirmed that he earns no less than 14 Million AED ($3.81 Million) in a year, with some reports suggesting he racks up 20 Million AED ($5.45 Million).
This has been one of the main reasons why Abdulrahman has never made the move abroad. The wages he earns are free of income tax, unlike the leagues in Europe, and earning such a high (gross) wage in Europe is highly unlikely, hence the reasons for his stay.
However, despite interest from Fenerbahce and Everton, his most likely destination is looking to be Saudi Arabia with Al Hilal, whom he played for when he was younger in the youth system. Al Hilal's interest came after the season-long injury of Carlos Eduardo was confirmed when the latter tore his ACL in the Asian Champions League Final.
The attacking midfielder, known best for his playmaking skills, can wow audiences with his fantastic skillset and ability to dictate the ball under pressure. He can also receive and release the ball to almost any player and location on the pitch. He would be able to fill the void Al Hilal have missed in terms of creativity in Zone 14.
The biggest criticism towards Amoory has been his tendency to toughen things on himself with unnecessary and risk passes. Moreover, his on and off performances in big games is another issue. For example, he absolutely masterminded the thrashing of Esteghlal in the Asian Champions League Round of 16 this year, but was nullified against Al Hilal over two legs in the quarter finals.