Malaysia U22
OKS start Olympic preparation with Newspaper Cup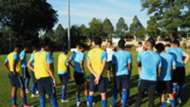 In his last big assignment, Ong led Malaysia to a creditable quarterfinal finish at the recent 2018 Asian Games in Indonesia. Having beaten Kyrgyzstan and South Korea in that tournament, it also represented the natural end of more than half of the team that first competed in the AFC U23 Championship qualifiers in 2017.
But from that squad, still 12 players are elligible for the 2020 Olympics and that is where Ong will form the core of his side. In the time since the Asian Games, Ong and his coaching staff have been around the country on a scouting mission with the President Cup and SUKMA being the two major tournaments where a keen eye was kept.
Speaking at a coaching course organised by the Coaches Association of Malaysia where the Technical Director of Queen's Park Rangers Chris Ramsey was giving talks to over 200 Malaysian coaches, Ong outlined his short term plan to reach Japan 2020.
"For the U21 now before the qualification for the U22, we will call the players at the end of November. We will be participating in the Newspaper Cup in Vietnam in the middle of December. That's our first planning before the Pre-Olympic qualifiers in March next year."
"For now until the end of the AFC U19, only I will make my decisions. I might take a few players from there to take to the team that includes players that we saw during SUKMA as well as the President Cup. 
"It's different when they play for their clubs in the President Cup. In SUKMA when they represent their respective teams it seemed that the state sentiment is strong. That's why I'm not surprised that they were a few players that shone and I'm excited to be calling them up to give them a chance.
"Main players like Akhyar, Safawi and Nik Akif will not be called up for the Newspaper Cup because they have played a lot of matches this year and also because they will be involved with the senior national team," said Ong.
As Head of Youth Development of Football Association of Malaysia (FAM), Ong also chimed in with his comment on the National Football Development Programme (NFDP) and calls for a quick resolution so that players in the system will not be kept in the dark for too long.
"Here you can see that the entire country is concerned what is the next chapter of NFDP. We have to see what we want to with the program and the batch of players that came through there. FAM have already come up with a working paper on how to proceed and we have to quickly come to a conclusion, with the players being in a limbo," added Ong.
Players still available: Haziq Nadzli, Dominic Tan, Safawi Rasid, Akhyar Rashid, Hadi Fayyadh, Faisal Halim, R. Kogileswaran, Nik Akif Syahiran, Syahmi Safari, Jafri Firdaus Chew, Danial Amier and Syamer Kutty Abba.
Follow  Goal Malaysia  on Instagram