Manchester United
Neville warns Man Utd not to sack Mourinho despite current Old Trafford crisis
Jose Mourinho should be given the chance to put things right at Manchester United and see out his contract, says Gary Neville.
The Portuguese finds himself falling under ever-increasing pressure at Old Trafford, with a 3-0 defeat to Tottenham on Monday seeing more questions asked of his ongoing presence.
The Red Devils have stumbled their way to their worst start to a season in 26 years, with talk of rifts from the boardroom to the pitch doing little for collective harmony.
Mourinho could be the man to pay the price, but Neville believes it would be wrong of United to part with a proven coach they handed fresh terms to back in January.
The former defender told Sky Sports: "We saw Louis van Gaal sacked after an FA Cup final victory, we saw David Moyes sacked with four games to go of a season, so we are no longer talking about a football club that is behaving as it has historically done.
"I accept these are different times and I accept the difficulties and challenges, but my honest view as I stand here now is that Ed Woodward gave him a contract last season, only seven or eight months ago, and he should see that contract through to the end and do the job.
"You can't keep jumping around with managers. I hear the third-year Mourinho stories and all the rest of it and you can't disagree with those stories because there is some history.
"But what I would say is it's time now for Manchester United to batten down the hatches and for Jose Mourinho and Ed Woodward to sort themselves out if there is a problem there.
"Get the team right for the rest of the season because the club is bigger than any individual. They have to get themselves sorted because it's not a time for in-fighting and politics."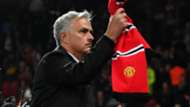 Mourinho still has two years left to run on his current deal and United have been urged to avoid emulating the "madness" which has seen the likes of Chelsea adopt a revolving door policy when it comes to managerial appointments.
Neville added: "He saw the end of his contract at Inter Milan, he saw the end of his contract at Porto and he saw the end of his contract at Real Madrid.
"It's only at Chelsea, which is a club of madness, where this has happened. At Inter Milan, Porto and Real Madrid he saw it to the end so let's not rewrite history. At Chelsea, everybody dies a little bit early. It's that type of club, he's not on his own there.
"It was tough for him at Real Madrid and he got through to the end of the season. I don't see it happening during the season.
"To suggest that Manchester United are like Chelsea is not right. I have to say Manchester United still do things slightly differently.
"In the last few years there has been an erosion of the beliefs. Jamie Carragher said last week the morals and traditions and bringing through British kids has gone out of the window when they sacked David Moyes and brought in Louis van Gaal.
"I get that and I understand that, but it is still too early - three games into the season - to start suggesting there should be a change of manager.
"Nothing could be further from the truth. It has to be that Jose Mourinho is allowed to go through and complete this season. If he does well he should go through the next season as well, which is when his contract runs out."