PSG
'My dream is to win the Ballon d'Or' - PSG teenage star Ikone on chasing glory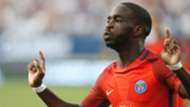 ---
EXCLUSIVE
---
Young Paris Saint-Germain attacker Jonathan Ikone says it is his desire to reach the heights attained by Franck Ribery during his career, but to also go one step higher and win the Ballon d'Or.
The 18-year-old is currently on loan at fellow Ligue 1 side Montpellier but is rated as one of the brightest talents in the PSG youth academy. Indeed, he attained 25th place in the NxGn ranking, which rates the game's brightest talents born in 1998 or later.
Ribery might have once turned out for the capital side's great rivals, Marseille, but it is the current Bayern Munich man he looks up to.
"He's always an example," Ikone told Goal. "Just look at his career to understand why he's someone to emulate.
"He's got great rhythm. He can beat his marker so easily. He's not a player who scores very often, but he always makes plenty of assists. That's what I want to do.
"On the field, I try to do what he would do sometimes, but I've not got the same skills as him yet! Maybe it will come.
"I try to reproduce his sidesteps, but I also take the example of Riyad Mahrez or Neymar, who are also very technical.
"What I love to do is to beat players. So, when I'm in a one-against-one situation, I won't hesitate."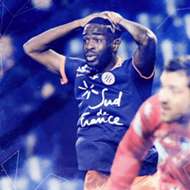 Ikone holds high hopes for his career and wants to achieve something that his idol failed to – to be officially named the world's greatest player.
"I have a dream that has not changed and still doesn't budge: to win the Ballon d'Or," he explained. "It's still a long way off, so my next aim is to be a player for a team that plays in the Champions League. I've still not proven anything, so I can't say I'm able to do it, but I hope and dream."
Meanwhile, one of Ikone's former team-mates at Bondy, his youth team, has already attained that goal. Kylian Mbappe is making waves at Monaco, and Ikone says that the runner-up in the NxGn Ranking should have finished higher.
"He's made a tremendous leap compared to the little player I knew and played with at Bondy," he admitted. "He deserves to be first in the NxGn ranking. If it were up to me, I'd put him on top.
"He has improved his movement and in front of goal he does not joke. He is complete.
"At Bondy there are very good coaches. Kylian's father, for example, trained me. He's a very good coach who followed me until I left for PSG. I often go back to Bondy."
To take his game to the next level, Ikone, who is nicknamed 'Jorko', believes he has one big improvement to make.
"To score," he admitted. "I'm often reproached: 'You think too much of making goals and not enough of scoring goals.'
"It's true that I prefer to make assists.
"After that, I must use my right foot more and improve its quality. Finally, I must become more consistent, but everyone can say that."
Ikone has already made a positive impression at Montpellier, where he has been restricted to six appearances due to injury. While he is yet to find the net, he does have one assist to his name.