Goal United
Move over, Ronaldo! Renato Sanches becomes Portugal's talisman against Croatia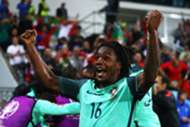 ---

COMMENT
---
Portugal coach Fernando Santos has thus far resisted the urge to start with Renato Sanches at Euro 2016 but he might need a rethink after the teenager stole the show against Croatia, lifting his side from the doldrums and inspiring them to qualify for the quarter finals. 
There are much bigger stars on this Portugal team - not least captain Cristiano Ronaldo - but the 18-year-old offered a glimpse of the future with his starring role in knocking Croatia out. Santos has taken plenty of criticism over the conservatism of his football so far in France but he must be applauded for his decision to include Sanches in his squad for this tournament. 
The youngster swapped shirts with Luka Modric after the game, hinting perhaps that he admires the Real Madrid maestro, but there was nothing inferior about the young man's display in Lens. He will be overawed no more and surely must replace Andre Gomes for the quarter final against Poland later this week after this man-of-the-match display.
"It's good to have this young blood," said team-mate Jose Fonte. "You see how he runs on the pitch, it's fantastic. He's powerful, he's full of energy. It's good for the group that we have kids like this."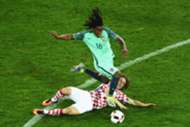 Tournament football can place a heavy strain on squads and Portugal were certainly lacking anything like the cutting edge they displayed against Hungary just three days ago. The side's failure to get the job done against the Magyars meant they missed out on an extra two days' worth of rest while a traffic problem caused them around a two-hour delay in reaching Lens the day before the game. Hardly ideal preparation. 
Key players like Ricardo Carvalho and Vieirinha were rested while there just wasn't the same jolt in the legs of Ronaldo and his strike mate Nani. That pair struggled for service all night long in a game that won't be recalled for its quality or excitement. Indeed, it wasn't until Ronaldo's goal-bound effort deflected to Quaresma via the goalkeeper Danijel Subasic in the 118th minute that a shot on target was registered. 
Instead it was mostly slow, ponderous, low-risk football on display from both sides who feared going out more than they relished going through. 
But there is an admirable fearlessness in the football of Renato Sanches. Here is a player who only made his senior club debut for Benfica in November but has since risen like a rocket. He will join Bayern Munich this summer for an initial €35 million at the personal behest of incoming coach Carlo Ancelotti, who sees him as a Bayern mainstay in the seasons ahead. He will surely now be that for his country too.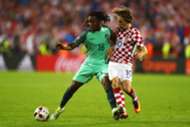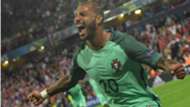 He came on for the hugely disappointing Andre Gomes just after half time and immediately set about injecting some power in his team's game. There were canny one-twos around the area. There were gallant attempts to get his side going in forward motion. There were tackles, barges, elusive dribbles, shots as well as a brash dominance of what had been a stale midfield battle. 
It was Sanches who broke from a Croatia attack late in the second half of extra time after Ivan Perisic hit the post with a header. No Croat had the legs to catch him as he charged through the midfield. His inch-perfect pass to Nani allowed the Fenerbahce forward to cross to Cristiano on the opposite side of the area. The only surprise was that the skipper didn't score, being denied as he was by Subasic. There, however, was the resurrected Quaresma to stoop and head Portugal into the last eight. It would have been impossible without the energy and skill of Sanches.
This should be just the momentum-building win to spur the Portuguese on. Santos has presided over a team which scored only 11 times in eight qualification matches and has never once won a competitive game during his tenure by more than one goal. Nor have they lost. They are a sturdy, resistant team which is near impossible to penetrate.
But they should be making more of their talent up front. There is Ronaldo, Quaresma, Nani and plenty more besides in the older crop to win games. Coming up behind is the Adrien Silva and Joao Mario generation but it is Renato Sanches - impossible to leave out despite his tender years - who could drive Portugal to greatness. 
Goal journalists are powered by the Samsung Galaxy S7 and Gear 360