José Mourinho
Mourinho: Ibrahimovic the super personality Man Utd needed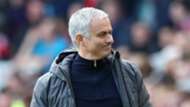 Jose Mourinho says signing Zlatan Ibrahimovic was important as his Manchester United team lacked the "super personalities" of previous generations.
NxGn: The 50 best Under-19 talents in the world
United are trying to regain their place as regular Premier League contenders following Sir Alex Ferguson's retirement in 2013 and Mourinho was brought in alongside some high-profile signings.
The Red Devils have not lost in the league since October, but sit fifth in the table and Mourinho admits he has had to adapt to his new surroundings, adding that the team needed an injection of a certain profile.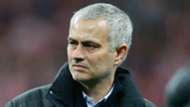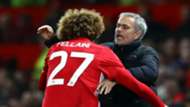 "Manchester United no longer has the super personalities of the likes of Ryan Giggs, Paul Scholes or Roy Keane," he told France Football. "There is Wayne Rooney and Michael Carrick, who are the last faces of this generation, and there is a new group of players that has to adapt. 
"That's why it was important for me to get Zlatan. In this team he had, without being English, without knowing the culture of the club, the personality and the profile to be more."
The Portuguese manager also opened up about his coaching methods, stating it is important to create the right mentality in the dressing room and convince players to give their all for their boss.
"You have to adapt to the reality of the club, its needs and its demands," he added. "It is called being intelligent. The priority is to establish relations of peace and love in a group, to create stability.
"From a psychological point of view, the stronger empathy in a group, the more consistent the relationship between players, and the more you are ready. The "mind game", which involves trying to manipulate someone psychologically via the media, is a way to create a state of mind, but it is most effective when you have a team full of personalities ready to absorb this kind of speech. 
"At Inter, I was like a fish in the water in this area. I had Marco Materazzi, Ivan Cordoba, Ibrahimovic, Diego Milito, Thiago Motta - guys who were willing to follow me everywhere . After that, it's another thing to work at a club where players do not have the same profile. So before you go in a different direction, you first need to understand the people you work with."
Griezmann warns Payet: We'll be benched for Mbappe
Mourinho has come a long way from his days as Bobby Robson's intepreter at Sporting, going on to achieve success at Porto, Chelsea, Inter and Real Madrid before returning to Stamford Bridge to win another Premier League title.
And the 54-year-old feels he has changed a lot in that time.
"Mourinho the man tries to be the opposite of what the manager is. He tries to be discreet, calm," he explained. "Find the way to disconnect. I can go home and not watch a football game, do not think football. I can do it. At the beginning of my career, I could not. I was constantly connected, 24 hours a day. I had to find a form of maturity. 
"Today, I feel good with my personality as a man. I have matured, I am more peaceful. A victory no longer represents the moon, and a defeat means hell. And I believe I am able to transmit this serenity to those who work with me, to my players. 
"I have the same ambitions as I used to have. The same involvement, the same professionalism. But I'm more in control of my emotions."