Transfers
Mosimane: Why Mamelodi Sundowns are yet to sign new players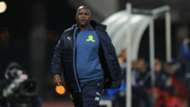 While Premier Soccer League (PSL) clubs such as Bidvest Wits and Cape Town City have been very busy bolstering their squads ahead of the new season, Mamelodi Sundowns are yet to make a move in the transfer market.
In recent seasons, Masandawana have severely cut down on their expenditure under Pitso Mosimane, and it seems that this transfer window will be no different. Speaking to the media ahead of Sundowns' final Caf Champions League group stage encounter against AS Vita Club, the 52-year-old tactician stated that Sundowns will not be making many new signings.
"Let's be honest' if you are looking for signings from Sundowns, for the last two years you are at the wrong club'" Mosimane said.
"We don't sign like we used to before. It doesn't mean that we don't want to sign, but we are no longer going on that spree. Last year we strengthened with Sibusiso Vilakazi and Yannick Zakri to help us in this year's Champions League.
"'Vila (Vilakazi) is scoring in the Champions League' even though he might not be doing very well at home. Zakri is there in the Champions League. Anele Ngcongca is getting his confidence in the Champions League after injury.
"So we want to strengthen. Next year' I'll be talking to you at the same time again. When the rest of the people are on holiday' basking in the sun' taking selfies or playing golf' we keep going," Mosimane continued.
Nonetheless, Mosimane also said that Sundowns' activity in the market has been hampered by the inflated price tags being placed on many of their targets.
"We're playing around the clock' around the year. So, we have tried to sign. But for the players we want it's R12 million' or not available," Mosimane said.
"Because we want to sign for specific positions. We no longer sign because somebody is around. We limit our signings. We have approached teams. One mentions R30 million' the other says' 'the player is not available, we are not selling'.
"So we don't want to be a club who signs players because they are free. No' I don't do that. I sign for a specific position' and we know who we are targeting. Whether he is contracted or free.
"If he's free we will sign him. Castro was free we signed them. Ricardo Nascimento was free we signed him, but seven months before that I was following Ricardo' and I had to go to Europe to see him play.
"So free is OK. But I don't live for that. I'm looking for specific players who can really empower us. And you know the story of the players we really like. We approached properly and 'not available'' the other one R30 million. OK' we'll move on," Mosimane added.
Meanwhile, the duo of Cuthbert Malajila and Mogakolodi Ngele returned to Chloorkop following their loan spells at Wits, and Mosimane admitted uncertainty surrounding their futures.
"They are not registered for Caf (Champions League) and I don't have enough places for Caf," Mosimane admitted.
"I only have three places to fill. So, the players that are priority are those who are not cup tied because I need to fill the three slots. And the most important position we want to fill is on the left and the player we targeted on the left was not cup tied and we approached the club and they said no we don't want to sell.
"But Ngele and Malajila are cup tied, so what's the point of focusing on them now. Remember we still continue, those ones we make a decision late July because August is somewhere around," Mosimane concluded.