Liverpool
Monchi - Meet the Roma 'transfer genius' looking to break Liverpool hearts in Europe again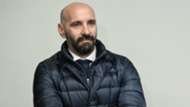 Amid another entertaining Jurgen Klopp press conference, he delivered a throwaway line with an underlying significance.
The Liverpool boss was discussing his side's Champions League semi-final first leg with Roma, and had been asked if he saw similarities between the way the two clubs had built their success this season.
"I like how Roma did it," he nodded, then the key line, followed by a trademark chuckle. "Obviously they brought in quite a good sporting director last year, though!"
The man he is referring to is Ramon Rodriguez Verdejo – or 'Monchi' to you or me. He's one of the most respected football figures in Europe, and Liverpool have been hurt by him before.
Monchi was responsible, to a large degree, for the Sevilla side which broke Klopp's heart in the 2016 Europa League final in Basel. That 3-1 win brought the curtain down on a remarkable 16-year spell as the Spanish club's sporting director, which brought nine trophies, 16 major finals and more transfer success stories than you could shake a stick at.
Just consider the names discovered and signed by Monchi at the Ramon Sanchez Pizjuan. Dani Alves, signed as a 19-year-old for €200,000. Ivan Rakitic, plucked from Schalke for €2.5 million. Seydou Keita, spotted in relative obscurity at Lens. All went on to play in all-conquering Barcelona sides.
There are others. Luis Fabiano, Adriano, Alvaro Negredo, Julio Baptista, Kevin Gameiro, Grzegorz Krychowiak, Gary Medel, Geoffrey Kondogbia, Ever Banega, Federico Fazio, Carlos Bacca, Aleix Vidal. Modest purchases who achieved success in Seville before being sold for huge profits.
Then factor in the youth players found and developed under his watch; Sergio Ramos, Jose Antonio Reyes, Jesus Navas, Diego Capel, Alberto Moreno. Sevilla earned €100m from those home-grown talents.
Monchi's is a remarkable record, a triumph of knowledge and organisation, scouting and trust, networking and negotiating. When Roma secured the 49-year-old's signature a year ago, it was celebrated as a new No.9 would normally be. To the Italians, it is more important.
His influence is already emerging. It is there in Cengiz Under, the 20-year-old winger plucked from Turkish minnows Basaksehir last summer. It is in the performances of Lorenzo Pellegrini, the talented midfielder brought back from Sassuolo, or Aleksander Kolarov, who looked washed up when leaving Manchester City but has been re-energised in Serie A. Monchi builds teams, and good ones at that.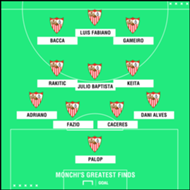 Sporting directors are not traditionally the most revered figures, certainly in England where the manager is seen as all-powerful and all-encompassing. Monchi's work at Sevilla, though, catapulted him to stardom.
His playing career was modest – 11 years mainly spent as a backup goalkeeper in Andalucia. He became friends with Diego Maradona but achieved very little, and when he moved into the sporting director role in 2000, shortly after cash-strapped Sevilla's relegation from La Liga, few would have predicted what was to come.
The 'Monchi Method' was relatively straightforward; find good players for low prices, develop them through good coaching and sell them on. By the mid-2000s, Sevilla were the best around at it.
To get there, Monchi employed a team of trusted scouts to watch various leagues around the globe, mainly in areas where he knew Sevilla would have a competitive advantage – in particular South America or Eastern Europe.
"We go looking for unknown players in places where we know the richer teams won't go because they don't think they will find anyone talented enough for them," he said, his process explained in an enlightening interview with The Guardian 's Sid Lowe back in 2016.
"For the first five months we watch a lot of football but with no particular aim: we're just accumulating data," he said. "Every month we produce an ideal XI for each league. Then in December we start watching players who appeared regularly in different contexts – home, away, international – to build the broadest possible profile."
The successes kept on coming. Alves, Navas, Adriano and Fabiano formed the core of his first great Sevilla side, the 2006 UEFA Cup winners. A year later, they retained it. Victory over Liverpool in 2016 was their fifth in total – a record.
"There is really no secret," Monchi said. "We watch a lot of football, we travel a lot, we work hard." He spent six months living in London during the 2013/14 season, learning English in a bid to further his skillset. And, one imagines, to aid his negotiations with Premier League clubs. "England is a good market," he has said. It was he who negotiated Mo Salah's sale to Liverpool last summer – a rare mistake in the market, perhaps?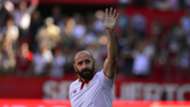 Crucially, though, Monchi's methods produce results as well as profit. "Nobody takes a 'great economic results' banner to a football match," he once said. Asked whether it was more important to buy well or sell well, he replied: "Neither, the priority is to win trophies."
And whether under Joaquin Caparros or Juande Ramos, Unai Emery or Jorge Sampaoli, Sevilla continued to punch above their weight at home and abroad. The players changed, Monchi was the constant. They have not finished lower than 10th since promotion back to the top flight in 2001. His departure last April was greeted like a death in the family.
Their loss, though, is Roma's gain. He arrived in Italy promising to create "the most professional football department possible" and speaking of restoring the Giallorossi to the summit of both the domestic and European game.
So far, so good. Despite the departures of key players – where have we heard that before? – Roma are on course to secure a Champions League place for next season, and have forced their way past Atletico Madrid, Chelsea and Barcelona en route to the last four of the current competition. Liverpool, good as they are, will hold no fears.
"Losing Emerson [Palmieri] and Salah is not easy," Klopp pointed out on Monday. "We had it with [Philippe] Coutinho. It's not a hobby, it doesn't feel like fun! You have these players on a specific level and then you lose them.
"We are in a similar situation. But we continued believing in ourselves and so did Roma. They are doing a fantastic job. They have all my respect."
Liverpool's own transfer record, of course, has been pretty good in recent seasons. On Tuesday the likes of Salah, Sadio Mane, Andy Robertson, Virgil van Dijk and Alex Oxlade-Chamberlain will look to ensure the Roma fairytale ends here, for this season at least.
Even Monchi would be proud of those kind of signings. And given his record over the last decade-and-a-half, there's no higher praise than that.