FA Cup
Mohamad Nik proud with players, Shukor wants to focus on MSL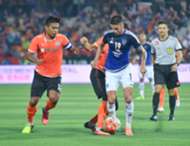 ---
BY         NIK AFIQ        Follow on Twitter
---
Interim manager of Felda United, Mohamad Nik admitted that they lost to a better team but insisted that he is proud of his players.
Despite only being in charge of the team in the last couple few days, Mohamad Nik believed that team are getting better from game to game.
"Despite the defeat, but I am very proud of my players because we lost to a better team tonight. After a week, I can see that we have improved our performance from game to game," said Nik.
Mohamad Nik also urged his team to bounce back from the defeat and switch their focus to improve themselves in the Super League.
"I hope we can forget this disappointment, and improve ourselves to have a better position in the Super League," added Nik.
Felda United's captain, Shukor Adan also shared the same sentiment, although he admitted that he was disappointed with the defeat.
"This is football, and we are disappointed with this defeat but we must switch our focus to Super League now."
"We didn't blame anyone for this defeat. We know JDT is a good team and I think we did our best already," said Shukor.
Johor Darul Ta'zim (JDT) scored in both halves through Gonzalo Cabrera and Gabriel Guerra, which gave the visiting team a comfortable 2-0 win over the Fighters.
JDT now will advance to the next round of FA Cup, while Felda United now be concentrating their effort in MSL and AFC Cup instead,