WC Qualification Asia
Milligan likes Ange's 'effective' new formation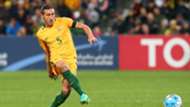 The 54-cap veteran anchored a back-three alongside Milos Degenek and Bailey Wright in a 3-2-4-1, a departure from the more traditional back-four employed recently by coach Ange Postecoglou.
"I think it's going to be a very effective formation for us going forward," Milligan told FFA TV.
"It worked well in patches and obviously in other areas it needs some work.
"It's just getting that total understanding of the way we're doing it.
"We'll have a little bit more time to work on it now and fine-tune things before Tuesday night," he said.
POINT A BITTER PILL
After going ahead through a Matthew Leckie goal just before half-time, Iraq grabbed a point with a goal in the last quarter-hour.
"It's a tough one to take," said Milligan.
"I think we worked very hard in very difficult conditions to get ourselves in front and to give it up late on is obviously disappointing, but it's sometimes hard to play in those situations.
"They sort of threw caution to the wind and their formation and everything went out the window.
"They pushed a lot of players on and maybe we had some chances to punish them going the other way.
"We didn't, and they kept coming," he said.
ALL EYES NOW ON SYDNEY
The fourth consecutive draw sees the Caltex Socceroos remain unbeaten in AFC Group B ahead of Tuesday's home clash with UAE, where Milligan plays his club football for Baniyas FC.
"We aim to win every game, so we'll be going into that match with the same mentality.
"Obviously we've fallen short tonight and in the last few games, so we'll be looking to rectify that."