Mexico
How will Mexico line up against Germany?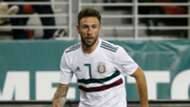 Click here for the confirmed starting XIs
You don't have to know much about Mexico to know manager Juan Carlos Osorio is a planner. In May, he said he'd decided on his starting XI for this game after the March friendlies.
However, injuries that forced Nestor Araujo and Diego Reyes out of the World Cup derailed those plans, and now the manager has to deal with a group he's lined up for only the past two weeks. Who has stood out in training? Are there any fringe players who have won his confidence?
As we do before every Mexico match, Goal is projecting three possible lineups for El Tri. Let's take a look at how Mexico could line up in the biggest match in four years.
---
Vela in free role
---

Osorio didn't bring Jesus Molina to Russia, even though he knew Reyes was an injury doubt. Yet, he knows he needs more force in the midfield than he did when his squad faced Germany in the Confederations Cup. That's why he could have both Hector Herrera and Andres Guardado sit back and hand a free role to a player like Carlos Vela.
Vela can drop behind Javier "Chicharito" Hernandez and play as a number 10 or overload the left side of defense where the left-footer already enjoys playing. This lineup seems like the most probable, with Hector Moreno and Miguel Layun playing on the left side of defense against a strong Germany attack.
There are subtle tweaks that could be made here, though. Hugo Ayala could come in as the right center back and push Carlos Salcedo to right back with Edson Alvarez dropping to the bench. Or this could end up playing in a standard 4-3-3. Vela has played as an interior midfielder for El Tri before.
---
Layun in the middle
---

Layun is an incredibly versatile player, and his talents almost feel wasted at left back. Osorio has looked to get Layun into the midfield, playing him there in Mexico's send-off friendly against Scotland, and said he could compete for a job there.
The issue, then, is who takes over at left back, with the answer being Jesus Gallardo. The converted winger has adapted well to life as a defender and had decent showings in recent friendly games. However, he's still a question mark there, and with the option to play Layun against a team as strong as Germany, it might be a risk Osorio isn't willing to take.
If he does take it, it could be a bridge too far to also play 20-year-old Alvarez, so Ayala steps in with Salcedo moving to the right in this projection.
Up front, Jesus Corona loses his spot to Vela despite "Tecatito" playing the best of any Mexico player over the course of three pre-World Cup friendly matches.
---
Trust in Alvarez
---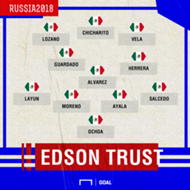 Osorio also could total surprise with a roster like this one, putting Alvarez straight into the starting XI as the central midfielder. That would free up Herrera to do more going forward, but it would be a tough for the Club America man to see his World Cup debut come against the reigning world champion. 
Alvarez did play better in midfield than he did in defense during the friendly matches ahead of the tournament, so it's not out of the question. If he's blown the coaching staff away in training, it would allow for an experienced back four with Guardado and Herrera getting more freedom to attack - something Osorio made clear in Saturday's news conference that he wants to do.