Transfers
Mexico defender Salcedo signs Frankfurt extension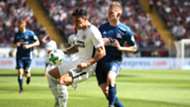 Eintracht Frankfurt has tied down 'El Titan', exercising an option to buy Carlos Salcedo's rights from Chivas and keep the Mexico defender at the club.
Salcedo was on loan from the Guadalajara club but had a successful season in the Bundesliga with Niko Kovac's side, which has tied him down until June 30, 2022.
The 24-year-old recently returned from a shoulder injury suffered with the Mexico national team, starting matches against Hamburg and Schalke. He's likely to play the majority of minutes with El Tri at the World Cup, with Mexico manager Juan Carlos Osorio preferring Salcedo to other options at right-back, though he continues to play center-back at the club level.
"Carlos is a player with real presence," Eintracht Frankfurt sporting director Bruno Hubner said in a news release. "He can open up play and has bounds of strength. He returned to fitness quicker than we expected after his shoulder injury because he worked hard on his recovery – that's a mark of his professionalism. We've managed to tie down an important pillar of our defense."
Salcedo is a Guadalajara native and spent time at Chivas' academy before moving to the United States and continuing his development with Real Salt Lake. He made his professional debut in 2013 and quickly became a regular starter for the MLS team that season and the following one. He soon secured a return to Chivas, helping the club win the Copa MX in the 2015 Apertura, and then moved to Fiorentina for the 2016-17 season.
While Salcedo didn't close the door on a Chivas return earlier this year, he also conceded his short-term future was likely to keep him in Europe. With the Mexican side, the reigning CONCACAF Champions League winner, has asked about bring players like Salcedo and star forward Javier 'Chicharito' Hernandez back from Europe, it also is lacking the budget that would be needed to do so, with the club weighing up selling current stars Rodolfo Pizarro and Alan Pulido.