Johor Darul Ta'zim
Matured Safiq eager to make full use of time available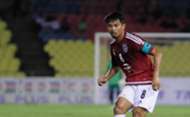 Continuing on from the Part I of the EXCLUSIVE Safiq Rahim interview with Goal, in Part II the talented midfielder shares the connection that HRH Tunku Ismail Sultan Ibrahim has with the team, his targets for the season as well as his own personal growth as a player.
All the great sides in world football, the Bayern Munichs or Real Madrids or Barcelonas of this world do not win every single match. Nor do they continuously win trophies after trophies relentlessly. Yes, there are times when such teams would go on a great run and capture a treble or even a quadruple of trophies but that doesn't happen in consecutive seasons.
For Johor Darul Ta'zim (JDT), there has been cries of anger and disappointment when the team let go of the Charity Shield as well as the FA Cup in 2017. The treble success of 2016 has whetted the appetite of fans and they have raised the bar of expectations.
The impact that it has on the fans is also felt by the players. Safiq himself suffers every time his JDT side is unable to come out of the 90 minutes as the victors. That's a winning mentality that isn't apparent of a lot of the local players in Malaysia. 
"The negative memories are the times when we can't help JDT get the trophies that we target each season. Those for me are the not so nice memories when I can't help the team. Not just to win cups but every game. If we can get good result in every game, that'll be the sweet memories," said Safiq.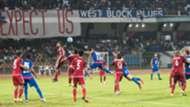 Having joined the club in 2013 when he was 26 year old, Safiq will turn 30 years old this year and over the course of the three and a half years at JDT, the midfielder's game has taken a course in the right path.
He was a tempestuous character when he first arrived at the club. Someone who does things at 100% and because of that, sometimes let his emotions get the better of him - whether in terms of reacting to challenges, results or refereeing decisions.
Safiq these days, seemed a very removed character from that time and he puts it down to being at the club. The direction and motto at the club has allowed him to developed not only his game when training with better players but also enabled him to be better from a deep within.
"I'm more matured now. There's still a lot to learn because we constantly have competitive games. Every year there are targets and we are serious about achieving those targets. That makes me improve and get better. I'm very proud to be here and maybe that's a blessing for me to further better myself," added Safiq.
These days, Safiq has also ventured into the F&B business and his cafe is located a stone's throw away from the magnificent JDT training ground at Sri Gelam. But he knows that there's only one man to thank for his fortunes on the pitch which had helped him to grow as a man.
"I'm thankful to HRH Crown Prince of Johor for accepting me in JDT from 2013. He has been very helpful to the players and staffs. He also gives us a lot of motivation and that's our advantage at JDT. Every game, our head or the father of our football gives us the motivation to give our best performance every match," extolled Safiq.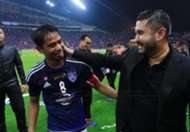 For a goal keeper, hitting the 30 years of age mark is something welcomed. The players in that position generally matured around that age and goes on to have five or in Gianluigi Buffon's case, another 10 years of footballing life at the top. 
It's a very different case for the outfielders. With the amount of physical output required from them, the lifespan is generally shorter than that of the one manning the goal. There's no reason to suggest that Safiq will slow down this year or next year because of his age.
But that is an eventuality that he is prepared for and one of the main driving factors behind his drive for the game now. Safiq knows that age is catching up and that is cruel to every player - but to him, that is also the motivation that he uses to want to win every match and to lift every trophy that he can get his hands on. 
A footballing philosophy that not only does he want to hold true to but also one that he desires from the rest of his team mates.
"The responsibility is the same for everyone but the eagerness and the desire perhaps is a bit more for me because of my age. Time is shortening fast and I know I must make full use of the time to achieve more success in the game. I want push myself and the others to get the best performance every game."
"Every player, it doesn't matter whether they are senior or junior - everyone has their respective responsibilities. Us as the more experienced players, we can guide them as individual and as team to give their best every game."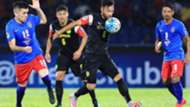 Riding high in the Super League, JDT will need to navigate past a tough Ceres-Negros FC in the AFC Cup to advance to the next stage. For Safiq, the opportunity is there for the taking and to not be able to do so would be deemed a failure.
"I hope myself and my team mates can retain the league title this season and go as far as we can in the AFC Cup. We want to emulate our success in 2015. We have the best squad and the best team, so we cannot waste the strength that we have and hopefully we can create more history," exclaimed a confident Safiq.
A midfield general that drives the team forward, Safiq Rahim is heartbeat of Johor Darul Ta'zim. His ability to unlock defences is among the best the region can offer. Now a more experienced and matured Safiq looks to guide JDT to the next level and break new grounds in Malaysian football.
Watch the full video of the interview below (language in BM).