Malaysia
Mario Gomez is yet to sign for the Harimau Malaya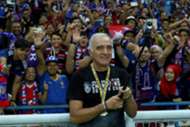 ---
BY         NIK AFIQ        Follow on Twitter
---
The President of the Football Association of Malaysia (FAM), Tunku Ismail Sultan Ibrahim (TMJ) has confirmed that talks are still on going between the FAM and Mario Gomez for the Argentinian to be the next head coach of the national team.
The statement was made during a meeting with the media in Johor Bahru on Tuesday,  which TMJ stated that Mario Gomez is still in discussion with them but the FAM also has other targets.
Reports suggested that Gomez is demanding more money for his salary, but with FAM currently having finanical difficulties, both parties are yet to come to a mutual decision.
TMJ had earlier announced that Mario Gomez will replace Datuk Ong Kim Swee as the national head coach, in his first press conference after being appointed as the new president of the FAM last month.
According to TMJ, the former JDT head coach will take over the senior team, while Kim Swee will take over Malaysia U22 team, replacing Frank Bernhardt.
Meanwhile, this latest situation also puts Tan Cheng Hoe, former Kedah head coach in a difficult situation.
Cheng Hoe had already tendered his resignation as Kedah's head coach recently as he is expected to be Gomez's right-hand man for the national team and this new development may throw a spanner in the works for him.
Mario Gomez was formerly the head coach for MSL champions JDT, before being replaced by Benjamin Mora early this 2017 season.