Manchester United
Marcos Rojo's cousin shot dead during botched robbery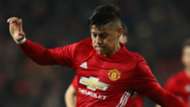 The cousin of Manchester United defender Marcos Rojo was shot dead during an attempted robbery in his native Argentina, police have confirmed. 
On Sunday evening, according to police, Geronimo Rojo, 17, and a companion attempted to assault retired police chief Guillermo Atencio while leaving an ATM in the San Carlos neighbourhood of La Plata. 
The victim, however, responded by pulling out a firearm and attacking his two assailants, firing a total of seven shots while Rojo and Ivan Rodrigo Barboza attempted to flee the scene on a motorcycle. 
Barboza was shot in the head and died instantly, while Rojo was hit in the shoulder. 
He was rushed to nearby San Martin hospital but failed to recover from his injuries, passing away at 5 a.m. on Monday morning. 
Atencio was apprehended at the scene and taken to a nearby police station, held on suspicion of murder due to the fact that the two casualties were shot in the back, leaving the area of the attempted robbery. 
On Tuesday, however, the former officer was released, after a judge ruled that he had "used, at most, excessive measures of self-defence."