Premier League
Manchester City accept FA anti-doping charge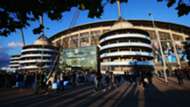 Manchester City have accepted a Football Association (FA) charge in relation to an anti-doping rule breach.
Caballero: Man City must defend better
City were charged by the FA on January 11, with the association alleging that the Premier League club failed to ensure that their 'club whereabouts' information was correct.
Failure on the part of clubs to meet this requirement is contrary to the FA's regulations, which stipulate that accurate records must be kept in relation to training, including times, dates and locations.
Following City's acceptance of the charge, the case will now go before an Independent Regulatory Commission to be heard.
A date has yet to be set for the hearing, but it is expected to occur within a number of weeks.