Transfers
Man Utd's latest trialist meets with Ibrahimovic!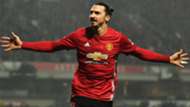 Manchester United have taken Italian striker Pierpaolo D'Errico on trial, and the teenager has met with Zlatan Ibrahimovic ahead of any potential deal.
Future looks dark for abject Arsenal
The forward is just 16, but has scored 23 goals so far this season for Heffort Soccer Dream di Parabita and is subsequently set to train with United on Friday.
The small club's president, Pasquale Bruno, has accompanied D'Errico to Manchester, and has heaped praise upon the young talent, who would appear to be the jewel in his side's crown.
Classe 2000, in prova allo #United . Il sogno di Pierpaolo D'Errico, da #Gallipoli a #Manchester https://t.co/x607uKTda9

— Gianluca Di Marzio (@DiMarzio) March 6, 2017
"Pierpaolo is a natural born striker, we're proud to have brought him here," he is quoted as saying by Gianluca DiMarzio.
WATCH: Horrendous penalty decision
"What an emotion for us to see him next to Ibrahimovic."
He added: "D'Errico, who this season has already scored 23 goals in the regional championship, is the typical English player, that's why they focused their eyes on him."