Real Madrid
Mediocre Madrid & abject Benzema Baled out of trouble in Abu Dhabi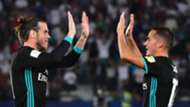 Marcelo and Zinedine Zidane were questioned in the press conference ahead of this FIFA Club World Cup semi-final about what they knew about opponents Al Jazira.
Marcelo replied that he was aware they had a Brazilian by the name of Romarinho but if the captain and coach of Real Madrid had anything else up their sleeve they were not showing it.
Not many of those seven hours on the flight over from the Spanish capital would have been spent studying Henk Ten Cate's team if their answers were anything to go by.
Was it that they expected to show up in Abu Dhabi and roll over these also-rans without putting their heart and soul into it? Certainly, that's how it appeared as they lost a clumsy goal to the very player namechecked by Marcelo a day before.
Zidane might well be tempted to cut a video clip of the defending that went into the move preceding the goal and use it as an example never to be repeated.
From Nacho's wayward header to Casemiro's half-hearted shove, from Achraf Hakimi's wild lunge to Raphael Varane's tentative shape before Romarinho struck, there was something in there for everyone who can't stand the sight of complacent defending.
Madrid were unbelievably one down at half-time but their own ineptitude at the back was only half of the story.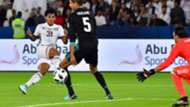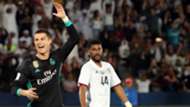 Ali Khaseif went off early in the second half but he got what his own individual performance deserved – a clean sheet against the biggest team in the world.
"It was amazing," said Gareth Bale. "He made some amazing saves and we were joking about it on the bench, but then it started to get a bit more serious.
"He made it difficult for us, I think we had a lot of chances and on another day it could have been more but you have to give credit to othem, they fought hard and we had to get the job done, in the end we did it."
This was a goalkeeping clinic from the UAE international and Al Jazira captain. From the very first minute, it was apparent that Madrid were going to have to work very hard to beat him. As it happened, they couldn't; legitimately, at least.
Karim Benzema had one header disallowed following a Cristiano Ronaldo foul in the box, while Casemiro's goal-bound header was annulled by Brazilian referee Sandro Ricci after Benzema was flagged offside.
With that one the full capabilities of the VAR were put to the test. It took an age for word to come back that the goal was chalked off. But Khaseif earned that luck.
He repelled Madrid time and again despite the heavy strapping to his right thigh, which eventually necessitated his substitution.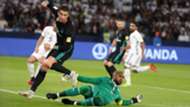 Benzema, Luka Modric and Ronaldo – repeatedly – were kept at bay by Khaseif with one save from the five-time Ballon d'Or winner ranking as among the best you'll ever see.
When he went off, it was the second of two crushing blows in succession for the underdogs. Just before that, Ali Mabkhout supplied Mbark Boussoufa with the opportunity to tap in for 2-0 but the playmaker strayed beyond the offside line.
What began as a Real Madrid crowd at the start of the evening was beginning to turn towards the hosts but the 36,650 in attendance sat down at pace once Ricci brought the play back.
And right on cue - before Al Jazira could compose themselves - you-know-who stepped up to bludgeon in the equaliser past replacement goalkeeper Khaled Al Senaani.
There was little celebration in Ronaldo's reaction as he quickly gathered the ball under his arm and demanded play be restarted. He was doing his bit but – the miracles he drew from Khaseif aside – Benzema wasn't.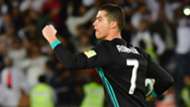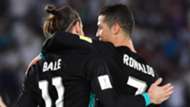 The Frenchman drew a save from Al Senaani when he should have squared to Ronaldo. He hit the post one time after another in the second half as Al Jazira withdrew deeper and deeper.
One was unlucky but the second was an awkward waft. He looks a player in need of a confidence boost but if he cannot get it against the fifth-best team in the United Arab Emirates then where will it come?
His withdrawal was booed by the crowd here when Gareth Bale came on with 10 minutes to play. It was typical for Benzema that Bale scored with his first touchg.
And like that the Al Jazira resistance was broken. Bale's tidy finish was the bucket of water that woke them from their dreams.
"I think we had control of most of the game," said Bale. "Obviously they hit us on the counter a few times but we had the game under control, it was just about finishing off the chances and luckily we did in the end."
But Al Jazira earned the respect of the watching world and did more to put their country's football on the map than any rich sheikh has by pouring money into European clubs.
Madrid came, they saw but didn't quite conquer. They'll breathe a sigh of relief and expect better all round when they're back at here for the final on Saturday against Gremio. 
"I didn't even know who was in the final until you just said," Bale remarked. "I suppose now we'll recover from this and pay attention to the next game."