Olympique Lyonnais
Lyon to take action against sexist demonstrator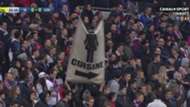 Lyon president Jean Michel Aulas has confirmed that the club will take action against a sexist demonstrator who was in the crowd for their match against Lille on Saturday.
The Man Utd starlet who could silence Mourinho youth doubters
During Lyon's 2-1 home loss at Parc Olympique Lyonnais, a fan held aloft a banner appearing to indicate that women ought to be sent to the kitchen, with the images being captured on broadcaster Canal Plus.
Seconds later, the same fan erected another banner that appeared to depict that men belonged in the stadium, even though there were dozens of female fans cheering on their team that evening.
Misogynistic banners, crowd throwing a few projectiles, losing 0-1. Not a great afternoon in Lyon pic.twitter.com/fQrdu2kbjP

— Mohammed Ali (@mohammedali_93) January 28, 2017
Supporters lyonnais... Pouvez-vous me donner des explications sur cette banderole : les hommes au stade, les femmes en cuisine? #égalité pic.twitter.com/eo8b43Ipvk

— Wendie renard (@WRenard) January 28, 2017
The images expectedly caused outrage amonst those watching, as Wendie Renard - captain of the club's women's team - demanded an explanation from fans via Twitter.
Aulas then tweeted in response: "The club will crack down and lodge a complaint against the bearer of this banner.
"He was removed and then identified and reported by an individual."
@WRenard le club va sévir et portera plainte contre l'auteur de cette banderole : déplacée et heureusement relayée par 1 individu identifié

— Jean-Michel AULAS (@JM_Aulas) January 29, 2017
The scenes were ironic given the legacy of the club's women's team, with the side reigning champions of France and winning the Women's First Division a league-high 14 times.
Yassine Benzia's brace gave Lille a 2-1 win over Lyon before Alexandre Lacazette pulled back a consolation, leaving Bruno Genesio's men sitting fourth in Ligue 1.