Indian Super League
Luis Norton de Matos: Komal wanted to join an ISL team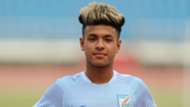 Luis Norton de Matos on Monday confirmed that India U-17 star Komal Thatal was not included in the Indian Arrows squad for I-League as the player wished to play for an Indian Super League (ISL) side this season.
Ahead of Arrows' second I-League game against Minerva Punjab FC at the pre-match press conference, Matos confirmed, "Komal was like Aniket (Jadhav) - an option for the U-19. Aniket came out strong. Komal had another reaction. He wants to play in another project. The door is open for all the players from the U-17 World Cup and it's a question of personal decision. He says that he wants to go in an ISL team and I respect that. Komal is not here because he doesn't want to be here and not because the coach doesn't want him to be here. It's completely different."
There was a lot of speculation after the Portuguese coach had omitted Thatal from the Indian Arrows I-League squad which was announced last week ahead of the team's opening match in the competition.
It was initially believed that the coach ignored the Sikkimese winger owing to his size. He was also kept out of the India team's starting XI in the last two matches of the FIFA U-17 World Cup against Colombia and Ghana for the same reason.
It is reliably learnt that Komal is in advanced talks with Sourav Ganguly co-owned ATK. 
Indian Arrows were off to a flying start in the I-League with a comprehensive 3-0 win over Chennai City FC. Aniket Jadhav scored and brace and Boris Singh netted a late goal to seal full three points for the India colts.
The team now shift their focus to Minerva Punjab FC against whom they will lock horns at the Athletic Stadium, Bambolim on Tuesday.