Super League
KAFA prioritises current players over former players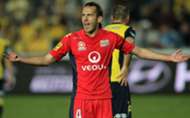 Kelantan Football Association (KAFA) through its Secretary-General Datuk Ismail Md Noor, has said that despite the large sum profited from the sale of Mohammed Ghaddar to Johor Darul Ta'zim, they are still unable to clear the overdue salary payments of players from their 2015 and 2016 seasons.
"This does not mean that we are sitting quietly. We are working to find the money to clear these overdue salaries. It's just that at the moment, we do not have that kind of money," said Ismail to Sinar Harian.
"We are constantly committed to resolve this issue. When the time comes, we will play," added Ismail.
KAFA has been put under the limelight after news emerged that they will be replacing their import players, which drew criticism from one of their unpaid players from past seasons. Jonathan McKain's social media comment has gone viral and it puts the association under greater pressure.
"KAFA has two choices. Either let Kelantan be the bashing boys or continue to stay competitive throughout the rest of this campaing. So, according to current situation it means that we need to sort the more important (current salaries) ones first."
"As for the accrued salaries, there are other methods to pay. If we are only to focus on these overdue salaries, I think Kelantan can pull out of the M-League because the players that we have now will run away because we can't pay them," explained Ismail.
Which will mean that at the point in time, KAFA will be using their newly-found fund to sustain their current playing squad as well as working staffs. And that means the wait continues for those who are no longer with the team but are still waiting for their hard-earned salaries.