A-League
Jamie Maclaren yet to decide post-Brisbane Roar future
Goal Australia Chief Editor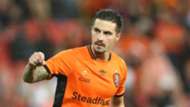 Jamie Maclaren has yet to decide on his next move after winning the A-League's Young Player of the Year (YPOTY) award on Monday night.
Maclaren, 23, is just the second player to be named the YPOTY on two occasions, following in the footsteps of ex-Central Coast Mariners goalkeeper Mat Ryan in claiming the award in consecutive seasons.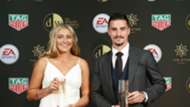 Remy Siemsen, Sydney FC, and Jamie Maclaren, Brisbane Roar - W-League and A-League Young Players of the Year
The striker's future has been a topic of conversation throughout the 2016-17 A-League campaign, with Maclaren's Roar contract set to expire at the end of June.
While many expect Maclaren to head abroad after two impressive years with Brisbane, he insists he will take some time to make a decision after Roar's season ended last week with a semi-final loss to Melbourne Victory.
COMMENT: Jamie Maclaren deserves more credit
Contract negotiations between Roar and Maclaren broke down in November.
"Look, I haven't decided yet. It's one of those things where you've got to sit down and weigh up all the options," he said.
"I love playing for Brisbane Roar, I'll make that aware [sic], but as any player you have ambition and, you know, I don't know what the future holds but it's definitely exciting."
Maclaren finished the season with 21 goals in 33 appearances in all competitions, with the Melbourne-born forward becoming the first player in Australian league history to reach the 20-goal mark in successive campaigns.
Not bad for a player who was considered out of form earlier in 2016-17, with Brisbane coach John Aloisi dropping Maclaren in Round 6.
Aloisi indicated at the time that ongoing contract speculation could have been taking its toll on Maclaren.
Maclaren proud after Roar comeback
But the two-time Socceroos striker bounced back, scoring over 50 per cent of his A-League goals in the second half of the season to eventually share the Golden Boot with Victory's Besart Berisha.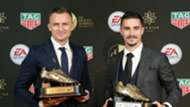 Besart Berisha, Melbourne Victory, and Jamie Maclaren, Brisbane Roar - A-League Golden Boot winners
"The second half of the season, I know I finished strong… fitness-wise and I finished strong last year, so I felt like I would finish strong this year," Maclaren said.
"It showed - in the last 13 [ed. 14] games, I scored 13 goals, so I'm proud of that and to win this award for the second year in a row, it's an amazing feeling."