Indian Super League
ISL 2017: Resurgent Adil Khan enjoying football at FC Pune City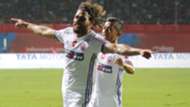 Adil Khan has been among the star performers this season for FC Pune City, who are keen to make amends for their failures in the last three seasons of the Indian Super League (ISL) by hoping to qualify for the play-offs.
The 29-year-old has made four starts and already has two goals to his name. His goal against Jamshedpur FC turned out to be the winner while he put his team into the lead when Bengaluru FC visited Pune.
Interestingly, this is only the second edition of the ISL for Adil. Having represented Delhi Dynamos in season one, he joined Bharat FC only to be sidelined for the entire year. In the second half of the 2015-16 season, he plied his trade for Lonestar Kashmir in I-League second division.
Thereafter, he was seen playing for Dempo SC in the Goa League before joining Churchill Brothers where he played in each of the 18 matches and helped them stay afloat.
FC Pune City left everyone surprised with their decision to choose Adil Khan as their first pick in the ISL draft. However, it would be fair to state that the player is repaying the faith shown in him.
"I am feeling good right now after injuries kept me out of action for almost two years. I have managed to score some goals but what is more important is to pick victories.
"After my PCL (Posterior cruciate ligament) injury in 2015, I was out for 12-to-15 months. After that I played at Lonestar Kashmir, Dempo (SC) and Churchill Brothers. From a stopper I started playing as a midfielder at Lonestar and at Pune as well. I am enjoying the moment and it's obviously a different feeling coming out of an injury. I will try my best to get better," Khan told Goal.
He believes that Pune have one of the best attacking units this season and that they are certainly among the contenders for a top four finish.
"Our team is feeling positive and are definitely fighting for our place at the top. It was only a matter of lack of concentration that led to us conceding against Bengaluru and Chennaiyin.
"Against Chennaiyin we conceded in the last minute. Against Bengaluru also, they had almost no attack - just the one shot on target by Sunil Chhetri. Everything changed after the red card (to Baljit Sahni). We have one of the best foreign attacks but maybe not the best. (Emiliano) Alfaro has good experience in attack like Marcelinho. (Jonatan) Lucca and Marcos Tebar are good midfielders," he mentioned.
Khan was asked to pick two teams who have looked impressive this season apart from Pune City to which he said, "(FC) Goa and Bengaluru have competitive foreigners in their teams. The ISL is now ruled by Spanish footballers. FC Goa were good during Zico's time too with all the Brazilians."
He also pointed that with more Indian players getting an opportunity to be in the starting eleven, more players have a chance to make an impression. He further suggested that while teams in the past only opted for Indian players on the flanks, this season more Indians are also playing in attacking positions.
"It makes a big difference with more Indian players as they also get chance to prove them. The Indian players are doing quite well for themselves in making a difference in many results. Now a lot of Indians are involved in the attack and making a lot more passes.
"It will help the national team coach (Stephen Constantine) in choosing (from a bigger pool of talent) and also improve the Indian national team with more Indians getting the experience in competitive football against quality foreigners," he opined.
One of the areas which the ISL has certainly played a major role in helping the players know is how to deal with situations where the fans are completely against you.
"We will take it (home support) in a positive way to motivate ourselves. Wherever you go, it is always a good to experience to play in front of huge crowds which has happened more after the ISL has started," he concluded.