Indian Super League
ISL 2017: FC Pune City's Marcelinho - The Indian contingent in Pune is impressive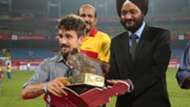 FC Pune City have a proven goal scorer in their ranks this season in Marcelinho. The former Delhi Dynamos attacker admitted that he enjoyed his stint with the Lions but now it's time to help the Orange and Purple brigade make it into their first ever play-offs.
"I started my ISL journey with Delhi and I won the Golden Boot award. However, we are professional footballers and we start new journeys with new teams often. I will miss my Delhi days but I will be playing with Pune now and so my focus will be on my current team," he stated.
He hailed the impact coach Ranko Popovic is having on the team since taking charge from Antonio Lopez Habas.
"I'm happy to be a part of FC Pune City and really looking forward for season four of the ISL. The team is gelling up well and we are trying our level best to fulfill the expectation of our head coach.
"The pre-season is going well. Our coach is leaving no stone unturned to train the team."
Marcelinho is impressed with the Indian players at Pune City such as the likes of Kean Lewis, Vishal Kaith and more.
"The Indian players in the squad are really impressive. They have an urge to grow in the game and we often help each other while training. We have some youngest Indian players in the squad playing ISL for the first time but they have so much passion about the game that they apply those leanings while we train."
FC Pune City faces Delhi Dynamos at the Balewadi Sports Complex, Pune on November 22 in their first ISL game this season.