Indian Super League
ISL 2017-18: Eelco Schattorie - We have to stay together and perform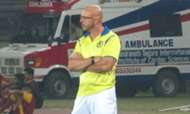 NorthEast United FC host reigning Indian Super League (ISL) champions ATK on Friday at the Indira Gandhi Athletic Stadium, Guwahati.
After losing four consecutive matches, the John Abraham-owned side returned to winning ways against FC Goa last week. The club underwent a managerial change in the new year. Coach Joao De Deus was sacked after a series of poor results and he was replaced by former Chelsea manager Avram Grant. Dutch coach Eelco Schattorie joined the club as Grant's assistant.
Speaking on his new journey and differences of coaching in ISL and I-League, Schattorie said, "It is a good thing that ISL is more spread out as in the games are not every two or three days. The level of foreigners in all the ISL teams is better so that increases the standards. The format is better for the players and the spectators."
ATK have travelled to Guwahati without star striker Robbie Keane who had suffered an injury against Bengaluru FC and is out of Friday's clash. On asked if Keane's absence will play an important role in tomorrow's match, the assistant coach replied, "I always focus on my own team. Of course, there will be advantages and disadvantages if Robbie Keane is not there, but at this stage, I will not comment on if I will be happy or not. We have to focus on our own team and try to get out of the situation where we were in. We have to be together and work together."
On the difficulties he has faced so far in taking over this side, Eelco said, "There are two things in our team that stand out. The last game under the previous coach before he left, the team lost 5-0. We had to bring the team together after that. Last week the team worked very hard, they worked together. Organisation to stay together is an important part. You have to have a good defensive organisation. Scoring goals are also important but that depends on how many quality players you have on the team who can score goals. We are working on it."
On opponents ATK, the Dutch coach mentioned, "I saw a few games on video. We need to improve. I like to play attacking football. You see teams like Goa or Bengaluru who like to play attacking football. It is difficult for us to reach that level. For us, we have to stay together and hopefully we get results from now on."