Football Business
Inter chairman close to Oxford United takeover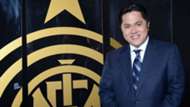 Inter chairman Erick Thohir is reportedly close to finalising a deal to take over English soccer club Oxford United.
Thohir, who has a 30 per cent stake in Inter, is interested in purchasing a majority stake in the League One club.
It is thought that he would have to sell his stake in Inter in order to do the deal, and majority owners of the Serie A club, the Suning Group would be keen to complete a 100 per cent takeover, having outlined their intentions earlier this year. It is likely Thohir would demand around €200 million for his stake, leaving only a few minor investors with shares.
A deal could be reached by the end of October, with Oxford United owner Sumrith Thanakarnjanasuth, who only took over in February, reportedly keen to sell.
Reports suggest that a poor relationship with stadium owner Firoz Kassam may be behind the Thai's wish to sell the club. Thanakarnjanasuth has apparently been exploring the possibility of a move away from the Kassam Stadium.
Indonesian businessman Thohir has had shares in Inter since 2013, but sold part of his majority stake to the Suning Group two years ago, with Italian media reporting of Suning owner Jindong Zhang's desire to complete a full takeover of the Nerazzurri club in June.