India
India Women's National Football Team ranked 56th in the world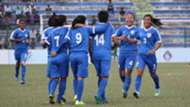 The India women's national team has slipped down two places from their previous ranking of 54. 
The Blues  have a total of 1404 points, while they had 1412 points when the last ranking was released.
The last match India played was on 4th January 2017, in a friendly encounter where they won 3-1 against Bangladesh in Siliguri.

Chelsea kid to ditch England for Nigeria

The lack of inactivity for more than two months was the prime reason for the drop in places. 

The team is in action early next month in the FIFA Women's World Cup Qualifiers in Pyongyang. Their opponents include DPR Korea, Korea Republic, Uzbekistan and Hong Kong.

Incidentally all the teams save Hong Kong who are at 65 are ranked higher than the side, with DPR Korea at 10, Korea Republic at 17 and Uzbekistan at 42.