Mauro Icardi
How Inter ace Icardi went from 'vile piece of sh*t' to Europe's most wanted striker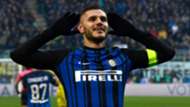 Just a couple of weeks ago, Luciano Spalletti enthused: "Who doesn't want Mauro Icardi?"
Certainly, these days, one would be hard pressed to find any club in Europe that would not be delighted to have the Argentine attacker within their ranks.
Chelsea, Manchester United and Arsenal have all been linked with Icardi this season, while there is mounting speculation that Real Madrid will make a move for Serie A's top scorer, whose buy-out clause is only €110 million.
However, just over a year ago, Icardi was considered more trouble than he was worth. 
Despite an impressive strike rate in Italy, Argentina still wanted nothing to do with a player who had courted controversy in his homeland by marrying the ex-wife of his compatriot and former friend Maxi Lopez. 
Furthermore, on October 16, 2016, Inter fans decided that they had had enough of their captain. 
When Icardi missed a penalty in a home game with Cagliari, some Nerazzurri supporters celebrated. They did so as they stood behind a banner strewn across the Curva Nord that read: "You're not a man. You're not a captain. You're just a vile piece of sh*t."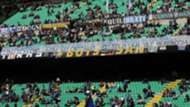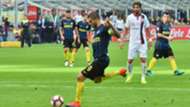 Why such vitriol against one of their own, the only consistent performer in an otherwise average squad? 
The answers lay in a book, Icardi's book, 'Sempre Avanti', in which he had boasted about taking on the club's ultras after a defeat at Sassuolo in February 2015.
"I took off my shirt and shorts and gave them to a kid," he wrote. "It's a shame that a head ultra flew over to him, took the shirt from his hands and threw it at me with disgust.
"This is when I start insulting him. 'Piece of sh*t, you are acting all arrogant with a little kid to show off to the rest of the curva? Do you think you're hard? You should only be ashamed.'
"In the locker room, I was acclaimed as a hero because nobody had ever faced off that way with one of the fan leaders."
Unsurprisingly, the ultras took issue with both the accuracy and tone of Icardi's take on the clash. "Icardi," read a statement released by the ultras, "as far as we're concerned, you're finished!"
And it seemed he was; his days at Inter looked numbered. 
The only trouble was that nobody was willing to take a risk on a striker who made enemies as easily as he scored goals.
Consequently, while Icardi was fined for his outburst, he stayed at San Siro. Furthermore, he was allowed to keep the captaincy. 
However, he had lost a lot of supporters - and not just in stands but also in the dressing room.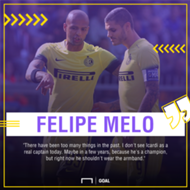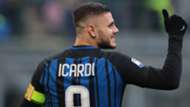 Felipe Melo left Inter to join Palmeiras in January of this year but when asked about Icardi's leadership skills in June, he stated: "He's still very young and he has to grow, but he's also very strong right now. If he doesn't score, Inter don't win, that's all too obvious.
"But the captain's armband is another thing. I think it's too much for him. A player who is captain must have the respect of his opponents. He's someone who, when you look at him and listen to him, you should think 's***!'.
"And I'm also referring to the opposition, who should be afraid of him in a positive sense, and this is not the case with Icardi. 
"There have been too many things in the past. I don't see him as a real captain today. Maybe in a few years, because he's a champion, but right now he shouldn't wear the armband."
It was expected that incoming Inter boss Spalletti would concur. Instead, the man who had had no issue in taking on Francesco Totti at Roma immediately took to Icardi, having been impressed by his desire, commitment and willingness to learn.
The feeling was mutual. After years of playing under weak-willed coaches, Icardi was invigorated by the methods of a coach he compared to "a hammer". 
He felt Inter finally had someone capable of restoring Inter to their former glory. As a result, he was willing to do whatever Spalletti asked of him, even if that meant dropping deeper to do more defensive work.
"Icardi inside the penalty area is impossible to stop," Spalletti argued. "He is lethal. I would like him to join in more with the team play, but that takes nothing away from his finishing."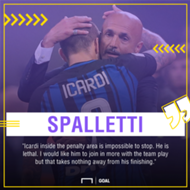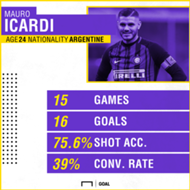 Indeed, Icardi has been sensational so far this season, scoring 16 goals in just 15 games. There is no deadlier goalscorer in Europe's 'Big Five' leagues right now. 
Both his shooting accuracy (75.61 per cent) and his shot conversion rate (39.02%) are better than those of Edinson Cavani (64%; 34%), Neymar (72%; 36%), Mohamed Salah (68.89%; 26.67%), Harry Kane (50.91%; 18.18%), Robert Lewandowski (58.7%; 30.43%), Cristiano Ronaldo (39.62%; 3.77%) and even Lionel Messi (58.46%; 20%).
What's more, his all-round game is improving. He still has a lot less touches per game than his striking rivals but he is far more involved in Inter's build-up play, as Jorge Sampaoli noted when recalling Icardi to the Argentina set-up.
"We need a striker who, as well as goals, has the characteristics of an assist-maker," the Albiceleste coach explained.
Icardi's improvement – both in terms of his all-round game and his attitude – is why he is back in the Argentina team. It is why Inter are top of Serie A. It is why the ultras love him again. And why Spalletti was right when he claimed that, nowadays, everybody wants Mauro Icardi.