Diego Maradona
How Diego Maradona took Mexico by storm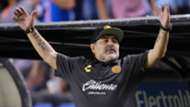 It is a story that if one dared to put it down on paper as fiction, any editor worth his salt would have no choice but to strike it down as far too outlandish.
On one side the great Diego Maradona, hero of Argentina's 1986 World Cup win but a man who for years was tormented by inner demons, typified by his long, desperate battle against cocaine addiction. On the other Dorados, an obscure second division Mexican club which, as fate would have it, calls home the state of Sinaloa – the centre of the country's cocaine trafficking plague and birthplace of the infamous Joaquin 'Chapo' Guzman.
Even by Diego's sensationalist standards, the news that he would be taking the vacant coaching job at Dorados caused a storm that reverberated across the globe. Yet for now at least, both on and off the pitch, the little firecracker who makes headlines every time he opens his mouth has been an unqualified success.
What other coach, after all, would take questions in his presentation not on tactics or potential signings but rather on his previous crippling drug habit? "I'm taking on this responsibility as if it were a new child," the 57-year-old told reporters in that maiden press conference.

"Ever since I kicked my illness 15 years ago, [when] I was wasting away. I want to explain to you that when I was using I was falling apart.
"It was a step backwards and a footballer always has to go forward. That all stopped thanks to my daughters.
"I was left without a cent, I went back to work, my youngest daughter, who was four, convinced me, she said I had experienced things with Dalma and not with her. When I was in a coma she touched my bedsheet to wake me up."
Maradona's arrival at the Culiacan club, founded in 2003, caused an overnight revolution. Dorados' previous home game had attracted a paltry 3,000 spectators; with Diego on the bench, that number shot up to 10,000, with thousands more following the game on television – it was broadcast live in his native Argentina – an unprecedented move for a lower league game in Mexico – and via social media.
Dorados romped to a 4-1 win, their first of the season, with viewers treated to every moment of their coach's debut thanks to a 'Diegocam' that remained fixed on him throughout the match alongside the regular transmission.
😂👉 Así celebra Maradona el triunfo con los @Dorados...

🕺🎶 ¡Alegría! #Golazo pic.twitter.com/IK2xUr50Vs

— El Golazo de Gol (@ElGolazoDeGol) 1 de octubre de 2018
Even the club's rivals are benefiting from the phenomenon. Oaxaca recorded the lowest home gate of the week back in August, with just 1,500 watching the club draw with Tapachula. When Dorados and Diego came to town, however, a bumper crowd of 8,220 – an increase of over 500 per cent – made it the most popular game of the round in the Liga de Ascenso. Mexico, it seems, just cannot get enough of Maradona – an idol in the nation ever since he scored two of the most famous (and infamous) goals in World Cup history in the Estadio Azteca against England, before going on to lift the trophy in the same venue.
The Argentine is even helping to shift more club merchandise, something unheard of in world football for a new coach. Dorados shirts printed with Maradona 10 on the back were put on sale prior to his debut and sold out immediately. Club president Juan Antonio Nunez admits Diego's incredible marketing pull is making him a favourite in the boardroom as well.
"The numbers might not be as impressive as those which Messi or Ronaldo manage, but you have to think that Diego came here as coach, not as a player," the chief signalled to Infobae.
"What coach can sell shirts? Only Diego. And that has been repeated in ticket sales, only Maradona can do that as a coach."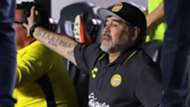 Dorados' women's team might be the next to receive a boost. Reports from ESPN suggest that Maradona's on-off partner Rocio Oliva will also be joining the club, having previously played in Argentina for River Plate and Comunicaciones. It seems that Culiacan has gone Maradona crazy, the most apt of adjectives given the coach's rather chequered past!
Perhaps the only man with a more colourful back story than the ever-eccentric Diego is Dorados' owner. Jorge Hank Rhon is the son of business mogul and long-time PRI politician 'Professor' Carlo, married three times and the father of 19 children. The Hank family's massive empire ranges from hotels, to bingo halls and greyhound tracks, and Jorge is notorious for spending those riches in a rather outlandish manner.
An avid collector of exotic animals, a report from AP during his campaign to become Sinaloa governor in 2011 claimed that he was partial to tequila fermented with bear bile and tiger, lion and dog penises. Hank also appears to be somewhat of a connoisseur of firearms: that same year, in a raid on one of his properties in border town Tijuana, police found 88 weapons and more than 9,000 rounds of ammunition. It took just 10 days for a judge to throw out prosecution proceedings, for "lack of evidence".
The partnership between Hank and Maradona, who is no stranger to controversy and court proceedings – he famously received a two year and 10 month suspended prison sentence for shooting at journalists with an air rifle back in 1994 – may well seem a match in heaven, albeit a rather volatile one.
Commercially at least, Dorados could not be happier with their new recruit, while on the pitch results have been admittedly steady rather than spectacular, with two wins and two defeats representing a vast improvement on the opening rounds of the season. With Maradona it is impossible to know how long he will stay in any one job, or how he will fare: but what is certain is that every single day in Culiacan will be a must-watch for fans and neutrals alike.