Transfers
How Chelsea could line up with Alex Sandro and Bakayoko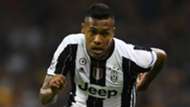 Alex Sandro and Tiemoue Bakayoko are close to joining Chelsea for a combined cost of over £90 million, so how will Antonio Conte integrate the duo into his team?
Alex Sandro close to Chelsea move
The Blues boss will class both players as first-choice options in their position but their signings are unlikely to drastically alter the way Chelsea play. 
Conte will likely stick to the 3-4-3 formation that brought his side the Premier League title in his first season but both players will be effective in the Italian's alternative 3-5-2 and 4-2-4 systems. 
Romelu Lukaku is most likely to be Chelsea's replacement for Diego Costa and has therefore been used as the frontman in these formation suggestions...
---
3-4-3
---
Alex Sandro is likely to come in ahead of Marcos Alonso in this system. The Spaniard surprised many by how well he adapted after making his £23m move from Fiorentina but Alex Sandro is regarded as a world-class talent in his position and thus he should be first choice.
Conte could also look to play the 26-year-old at centre-back, a role he became used to at Fiorentina, or Alex Sandro could even play on the left-hand-side of the attack, given his versatility.
Official: Bertrand Traore moves to Lyon
Bakayoko is set to replace Nemanja Matic in a central midfield role, with Manchester United close to sealing a deal for the Serbia international.
Conte prefers energetic, powerful midfielders when he opts for a two in the middle of the pitch, which would mean Cesc Fabregas remaining on the bench in this system. 
---
3-5-2
---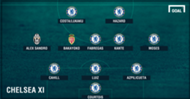 Alex Sandro can play anywhere up the left flank and he would be comfortable in playing on the left in this formation, with three central midfielders.
The 3-5-2 is a similar system to 3-4-3 but it requires the wide players to cover even more ground and provide more support in attack.
Bakayoko set for Chelsea medical
The Brazilian has everything needed to be a success in this formation and offers more than Alonso in attack, aside from the former Bolton Wanderers wing-back's brilliant set-pieces. 
Bakayoko could fit in alongside both N'Golo Kante and Cesc Fabregas in this formation in what would be a well-balanced line up. 
---
4-2-4
---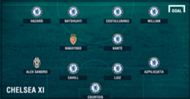 Chelsea's most attacking formation last season was the 4-2-4 and at one point Conte intended it to be the main system he would use in his first season in England. 
He quickly abandoned that idea, though, as he realised that his players weren't a good fit for the system that has rarely been seen in the Premier League. 
Conte switched to 4-2-4 late in games when he was chasing wins and he could look to utilise a similar approach next season, especially with a view to getting more minutes for Michy Batshuayi. 
Bakayoko and Alex Sandro would be able to handle the rigours of this system which needs energetic midfielders to pull it off. 
The Juventus star is primarily coming in as a wing-back but, if Chelsea were to switch to a back four, he would be comfortable playing as a classic left full-back.