Manchester United
Herrera: Ibrahimovic is a genius, but very annoying at times!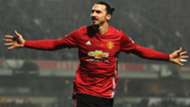 Ander Herrera has hailed Manchester United team-mate Zlatan Ibrahimovic as "a genius" but also joked his incredible will to win can make him "annoying" at times.
The Red Devils have seen their Swedish striker become a talismanic figure during his debut campaign in England.
Mou: We needed Ibra personality
At 35 years of age, a 26-goal return has him spearheading a quest for further silverware at home and abroad – having already netted vital goals in Community Shield and EFL Cup triumphs.
His value to the cause is not lost on his Old Trafford team-mates, although an all-encompassing desire for victory can be frustrating at times.
Herrera told Marca on Ibrahimovic: "He is a genius. He can say that he will score 30 goals and that he is the best because he can get away with it.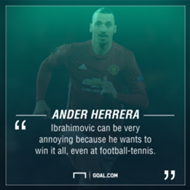 "He is so good that he can do that."
But he added: "Ibrahimovic can be very annoying because he wants to win it all, even at football-tennis."
Vidic: Pogba expectations unrealistic
Herrera has also discussed Paul Pogba's adjustment period at United, with the Spaniard urging his fellow midfielder to be given time following a record-breaking transfer.
He added: "He loses out when being compared to that fee, just as it happens to all of us except [Barcelona's Lionel] Messi and [Real Madrid's] Cristiano [Ronaldo].
"But he has scored seven goals and has set up a few more."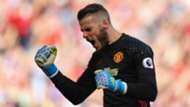 While happy to have Ibrahimovic and Pogba alongside him, Herrera is also hoping to see fellow countryman David De Gea remain at Old Trafford for the considerable future, amid renewed speculation regarding supposed interest from Real Madrid.
"I wish I could play with him for a long time, for me he's the best," he said.
Perez responds to De Gea rumours
"Never before has a goalkeeper at Manchester United been voted as the best player by the team and the fans, he's managed it three years in a row."
"He's a phenomenon and has a great gift in his reflexes, I want him to continue as he can be a United legend if he wants to.
"His move to Madrid did not go through and he adapted very well to that situation, playing out of his skin. That says a lot about him."