Chelsea
Hazard genius may not be enough if Chelsea's strikers don't start scoring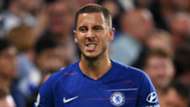 A flick and a turn, then a run and a finish.
Eden Hazard's lightning movement and sixth goal of the Premier League season in Saturday's pulsating 1-1 draw with Liverpool put Chelsea in an unexpected position under new coach Mauricio Sarri: the Blues are title contenders.
Hazard's sensational form has propelled him to at the top of the goalscoring charts, with Sarri helping him hone a trait that many thought the Belgian would never possess: a real ruthlessness in front of goal.
Chelsea's main worry ahead of the season was that they lacked the finishing ability to win the title, but their most valuable player is providing them with that platform to compete with Liverpool and Manchester City for top spot.
However, it still may not be enough.
Sarri is pushing Hazard to chase 40 goals but Mohamed Salah's current slump after last year's record-breaking heroics is a reminder that one should never get carried away by hot streaks. A run of goals is never guaranteed unless your name is Cristiano Ronaldo or Lionel Messi and the goalscoring burden on Hazard at Chelsea is huge.
Indeed, as it stands, Hazard's tally of seven goals in all competitions means that he has scored more than every other Blues forward combined this season.
After Chelsea were pegged back in Saturday's 1-1 draw with Liverpool by a late wonder-goal from Reds reserve striker Daniel Sturridge, it was put to Sarri that his side is now overly reliant on Hazard for goals.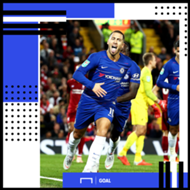 "Maybe," he acknowledged, "But I think at the end of the season we can have four, five players with over 10 goals. So it's not only Hazard.
"Of course Hazard is the first, but I think Pedro, Willian, [Alvaro] Morata, will be able to score more than 10 goals in a season. Pedro is on three goals [at the moment]."
What makes Hazard's Premier League-leading tally of six goals all the more impressive is the fact that they have come from just eight shots on target. Contrast his remarkable rate of efficiency with that of Morata, who missed seven chances in a single game against PAOK last week.
There are some great performers in Chelsea blue but they lack the ability to not only score chances, but create them too, at least not with the regularity of their attacking counterparts at Liverpool and Man City.
Towards the end of the second half of the game against the Reds at Stamford Bridge, a close up was shown of Hazard's knees after he was brought down by Sadio Mane. Liverpool had targeted Hazard as many do, due to his clearly exceptional talent, and the tackles took their toll as Hazard got to his feet bloodied.
Hazard's individual class is deciding games and Chelsea's rivals know it. Shut him down and you shut Chelsea down.
He is Chelsea's only hope of a goal right now, their only hope of sustaining a title tilt.
Still, the week's double header against Liverpool was always going to be a stern test of Sarri's revolutionised team and they rose to that challenge.
Jurgen Klopp is just one of many in the football world to be stunned at how quickly the Blues have adapted to a total overhaul in playing style and his side lost their 100 per cent win record at Stamford Bridge, which was the last to stand in all four English professional divisions.
However, they escaped the stadium undefeated with the very best that Chelsea could throw at them. Klopp remains likelier to win the big prize than Sarri, who admits himself that his side are still a step behind Liverpool and City, even if they are closing the gap quicker than he anticipated.
Of course, Hazard has been key in that regard. He could well carry Chelsea for the entire season. He is that good. 
However, he needs more support if Sarri is to emulate Antonio Conte's Premier League triumph in his first season at Stamford Bridge, in 2016-17.
They were a side that were unfancied too, but they didn't have the quality of rivals that Sarri is now tackling in Liverpool and City.
With Hazard in this form, of course, anything is possible. He has developed a killer instinct in front of goal. But he needs the likes of Morata to rediscover theirs if Chelsea are to maintain their title challenge.