Premier League
Guardiola: Don't blame Bravo when Man City concede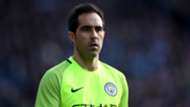 Pep Guardiola says Manchester City's goalkeeping woes this season have been due to his players' inability - or unwillingness - to defend properly.
Claudio Bravo has endured a torrid debut season in English football and was taken out of the firing line at the turn of the year having conceded six goals from six shots on target.
Willy Caballero had proven a capable stand-in, though was caught out by a deflection after Eden Hazard strolled through the City midfield in the game at Chelsea earlier in April.
Guardiola on Syria and Dortmund bombing
Bravo was recalled to the line-up for last weekend's game against Hull City, where he conceded his seventh goal from seven shots on target late on.
But Guardiola was annoyed with his side's defending after the Hull game, and returned to the point on Thursday when asked about Bravo's struggles this season.
"The problem when we concede goals is not the goalkeeper - it's not Claudio, it's not Willy," he insisted. "So the problem with the goal against Hull was six players didn't want to defend. There was a corner, a second ball and six players said 'OK, that's not my business'. We defended in the box four against six.
"The problem is not the goalkeepers. Everyone can make mistakes, make a good save, a lot of players miss clear, clear goals."