WC Qualification Asia
Goal-hero Leckie on Socceroos' draw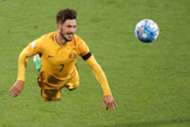 The German-based striker opened the scoring on a chilly night in Tehran with a clinical first-half header before Iraq grabbed an equaliser with 15 minutes left.
"We probably could have put them away with a second that would have killed the game for them," Leckie told FFA TV. 
"But credit to Iraq - they obviously pushed men forward and took a lot of risks to try to chase the game.
"They fought to the end and scored the goal that was probably deserved for the amount of pressure they put on.
"A fair result was a draw."
SET-PIECE PERFECTION
Leckie's fourth Socceroos goal in his 38th international appearance came from a left-wing corner, delivered beautifully by Aaron Mooy.
"It was a planned one and it worked perfectly," said Leckie.
"There were a couple of boys in that area that dragged some boys away and I was able to get pretty free.
"It came off the head perfect and ended up in the top left so I'm very happy with that on a personal level but ultimately taking the three points would have been the best reward."
HOME COMFORTS AWAIT IN SYDNEY
The Socceroos now travel back to Australia for Tuesday night's clash with the UAE in Sydney.
"We're all pretty confident and positive in what we're doing," Leckie said before the team jetted out.
"We've had a tough road up until now.
"We have four games [left] now with three at home, so this is a time for us to step up.
"We dominate most of our games at home.
"We need a lot of character amongst the team and a lot of players to step up and if we can do that I'm very confident we'll get all our results at home."