A-League
Geelong's A-League bid unveils advisory board
Goal Australia Chief Editor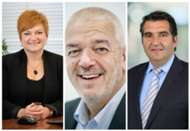 Geelong's A-League bid has unveiled its advisory board as they continue to work towards winning a licence as part of the competition's planned expansion.
The group, who operate under the working title Victoria Patriots, revealed on Wednesday that Barwon Water chairperson Joanna Plummer, KPMG partner Maurice Bisetto and stadium operations specialist Paul Sergeant will take control of three key pillars of the bid.
Plummer, a business strategist with strong local connections, will work alongside club founder and spokesperson Steve Horvat in liaising with stakeholders and attracting investors.
Bisetto, who is also president of NPL 2 Victoria club Moreland City, will oversee the financial side of the bid to ensure it avoids the type of economic issues that have plagued both current and former A-League outfits.
Is FFA missing an expansion opportunity?
Sergeant, who has run venues such as Wembley, the Millennium Stadium and Melbourne's Etihad Stadium, will work alongside architectural firm Populous, who have been commissioned by the bid to design a new football stadium for Geelong.
Speaking to Goal, Horvat - a former Australia international who played 32 times for the Socceroos - was thrilled to announce the trio's collective appointment.
"They all have different skill sets and abilities but the one common thing is that these are all people that love the game. That not only want this club to work and to be successful for the region but they want what's good for the game in general," he said.
Just three weeks since Geelong's A-League bid was launched, Horvat was unapologetic about the drip-feed approach to the media, while he reiterated that Victoria Patriots is simply a working title that will eventually give way to another name decided upon by fans.
Horvat and the bid's investors, who will be announced at a later date, have been working on developing an expansion proposal for over 12 months.
"We want to be very strategic about it," he said.
"We don't want to turn up one week and then have nothing to say for three months, so there will be rolling announcements."
The Victoria Patriots' media campaign seems to be working too.
FC Tasmania planning new stadium
Horvat is keen to underline that his club would connect with people from the western suburbs of Melbourne through to Geelong and other regional centres in Victoria's west such as Ballarat and Warrnambool.
The former defender believes the parochialism of the region and its strong football history - Socceroos such as Josip Skoko and Matthew Spiranovic also hail from Geelong - would ensure the club's success.
"I do believe once a club in this region is established, I think they're really going to have that same level of support as the [Western Sydney] Wanderers do," Horvat said.
"We can already judge by the amount of requests and contact via Facebook etcetera - people are already designing strips, designing logos, throwing out names that we should the club.
"The response has been nothing short of phenomenal, which really gives us a lot of heart."