Mexico
Estadio Azteca doesn't have the same weight it once did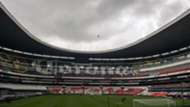 MEXICO CITY — When Costa Rica's players walk into the Estadio Azteca for the first time, they'll feel the weight of history. It's impossible not to enter the physically imposing structure, one that will be filled with more than 80,000 screaming fans Friday, and not think of the past.
It's a venue that has hosted two World Cup finals and almost countless Liga MX finals, memorable World Cup qualifiers and other big matches.
In case a visitor is to forget, the history is literally written on the wall, the results of past Mexico triumphs in the stadium painted in the tunnel teams use to enter the field.
Yes, they'll feel the history. But Costa Rican players may not feel fear.
CONCACAF teams in similar situations
A variety of factors have come together and dampened the pressure opposing players feel against Mexico. Don't buy it? Look at the results the last few years. Mexico's previous World Cup qualification campaign was poor for a number of reasons, but it saw a number of record lows for Mexico at home. Mexico dropped points against Jamaica, the U.S. and Costa Rica and outright lost to Honduras. A Raul Jimenez bicycle kick was needed to get three points against Panama.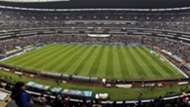 The days of frustration at Chepo de la Torre's squad are gone but even still El Tri haven't impressed at home in the subsequent eras, with a drab draw against Honduras in the team's most recent World Cup qualifier at the Azteca.
The altitude of Mexico City that made the stadium seem extra tall for opposing players gasping for air has left some Mexico players panting lately. The majority of Mexico's players, and especially those who make up the starting XI, aren't playing in Mexico City with any regularity. Coach Juan Carlos Osorio, a man who is obsessed with figuring out how to get the most from the human body on the soccer pitch, has elected to move camp to Cuernavaca, Morelos. That switch is so players coming in from abroad aren't subject to the negative effects, which Osorio says hit hardest 72 hours after arrival.
Mexico not concerned about 'CONCACAF giants' label
"When we've come in from abroad, the first training session is always rough going, it drowns me. It's hard to breathe and the truth is, yes, it weighs on you heavily," said Mexico midfielder Jonathan dos Santos, who plays with Villarreal in Spain.
It means the Mexican and Costa Rican teams will have spent the same amount of time at altitude, with both set to arrive here Thursday ahead of the next day's match.
The past success teams have had also does something to break the mental hex. As Osorio mentioned before his team went into Columbus, Ohio this winter and came out with Mexico's first win there in five attempts, winning in a stadium where you haven't won before becomes more mental than tactical. No team remembers the past like Costa Rica, which finally topped Mexico at the Azteca with a 2-1 victory on June 11, 2001, that became known as the "Aztecazo." Days before this Friday's match, the Costa Rican press is filled with stories about current players remembering how they celebrated the win. One television network has produced a film about the match on sale now at aztecazo.com.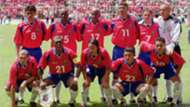 "We've won a lot of things. This stuff about making history with an Aztecazo, there already was a group that did that. This isn't new for us. We're playing for a ticket to the World Cup," Costa Rica center back Giancarlo Gonzalez said Monday.
Ticos expect tough Tri despite injuries
Even structurally the Azteca isn't as intimidating as it once was. Renovations have made the stadium more modern and safer – both of which are good things. Yet, fans in suites wearing suits hardly makes up the stuff that gets in opposing players' heads during matches.
The Estadio Azteca is still a sporting treasure, and one that does indeed provide El Tri an advantage. National stadiums elsewhere do that too, though. In today's global game, the benefits of a home field are more diminished than ever. As that continues, the building will weigh less and less on opponents. It's up to the Mexico team to exert its dominance on the field and make sure future visitors feel something more than the history when they walk in.