Mesut Özil
'Racism must come to an end!' - Turkey president Erdogan reiterates support for Arsenal star Ozil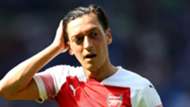 Turkey president Recep Tayyip Erdogan says the "racism" suffered by Mesut Ozil must never be repeated after the Arsenal star was forced to retire from the Germany national team.
Ozil came under fire during the summer after posing for a picture with Erdogan in London last May.
Following a disastrous World Cup in which defending champions Germany were knocked out at the group stage, Ozil called time on his international career, citing the "racism and disrespect" he had been subjected to due to his Turkish heritage.
Erdogan has already jumped to the defence of the 29-year-old and has now called for an end to the persecution suffered by the playmaker.
"Such racism must come to an end," he said during his state visit to Germany.
"Mesut Özil, who was born and raised in Germany, was expelled from the community because he took a picture in England. 
"I could hardly stand it as their president that these young people who made it to the national team, were ejected."
The photo which caused such outrage was taken during president Erdogan's election campaign visit to London's Turkey community earlier in the year.
It exacerbated tensions between the two countries, with many German citizens being held in Turkey on political charges as part of Erdogan's clamp down on free speech.
Politicians and figures from the Germany Football Federation (DFB) criticised the move.
Manchester City's Ilkay Gundogan also posed for a picture with Erdogan, who he regards as "my president".
Ozil's Turkish heritage originates from his grandparents, who immigrated from Germany, but felt he was treated like "an immigrant" by disgruntled fans of the team.