Premier League
Elvis Opoku fined by Aduana Stars for misconduct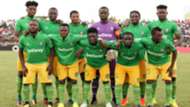 Aduana Stars midfielder Elvis Opoku has been fined by the club's disciplinary committee after admitting to misconduct charges filed against him for criticizing the management of the club in a recent interview.
The 24-year-old launched a scathing attack at the outfit, describing some of their decisions as 'senseless' and further revealed that he wanted his two-year contract mutually terminated.
However, he accepted his 'wrongdoing' after being hauled before Aduana's disciplinary committee on Friday and has been handed a fined to serve as deterrent to other players.
"The Management of Aduana Football club after careful consideration of Elvis Opoku's plea for his utterances on Nhyira FM thereby fines him ¢3,000 ($630) for disparaging the corporate image of the club and the code of conduct he signed," a club statement read.
"He has been cautioned to respect the code of conduct of the club and also be of good behaviour," the statement added.
Opoku has in his closet one Ghana Premier League title which he won with Aduana in the 2016-17 season.