Dante
Dante: Gone but not forgotten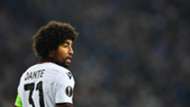 ---
EXCLUSIVE
---
Dante could have walked along the Copacabana without attracting a glance, merely another face in the crowd. Like so many of his compatriots, he has played almost his entire career abroad. 
The Salvador native headed to Europe after barely more than a single season in Brazil. His dream of returning home for the Selecao's first World Cup on home soil in more than half a century was for so long little more than a pipedream.
But 2012 changed all that. His fabulous form in Germany for Gladbach attracted the attention of Bayern Munich, and a move to the Allianz Arena turned heads back home – including that of Luiz Felipe Scolari.
---

READ MORE:


Brazil qualify for WC2018  | PQPaulinho - a hero's return  |  Neymar - Captain Fantastic
---