Primera División
Like Neymar, could Cristiano Ronaldo miss the Clasico?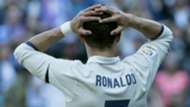 Neymar has seen his place in the Clasico come under threat with a red card against Malaga - but could Cristiano Ronaldo also miss out on the clash? 
While the Brazilian awaits to find out whether his dissent at the end of Barcelona's 2-0 defeat could cost him dearly, the Real Madrid star is also walking a tightrope. 
Luis Enrique questions Neymar red
With just one game to go before the game which could decide the fate of this season's Liga title, he sits uncomfortably on four yellow cards. 
A booking against Sporting would earn Ronaldo an automatic one-match suspension, ruling him out of contention. 
Dani Carvajal took extreme measures on Saturday to ensure his own participation. 
The right-back picked up his fifth booking with a cynical foul during the 1-1 draw against Atletico, missing the game against the relegation strugglers in order to return against Barca. 
But Ronaldo had no such intention of earning a caution, and thus must run the gauntlet - unless Zinedine Zidane decides to protect his star by keeping him off the pitch until the grudge match looms.
With Real Madrid three points clear of their rivals with a game in hand, resting his star goalscorer is a risk that the Frenchman could well be willing to take.