Selangor
Cornthwaite opens up on tragedy during time at Selangor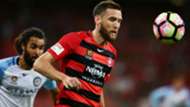 ---
BY        ZULHILMI ZAINAL       Follow on Twitter
---
Former Selangor defender Robert Cornthwaite has opened up on the tragedy that befell him and his family during his time with the Red Giants back in 2016.
In an incident that was little-known to fans at the time, the Australian centre back's wife Nel miscarried their second daughter 22 weeks into her pregnancy, on March 15 2016.
Cornthwaite told The Weekend Australian that his wife had been infected with a virus, which caused her body to begin a premature delivery of the baby.
"Nel was 22 weeks with our second daughter and was feeling off for about 48 hours. Never did we imagine it was the early signs of premature labour.
"The doctors told us Nel had contracted a virus and that her body felt the baby was in danger and began the labour although there was nothing wrong with our girl. She was a perfectly healthy 22-week-old baby.
"Being told there was nothing to stop the labour and that our baby girl, Minnie, would be born at just 22 weeks was just devastating news.
"It was difficult to comprehend. We were at one of their top hospitals and there was nothing the doctors could do.
"Although Minnie never took a breath, we were able to hold her and talk to her. We told her how much we loved her and how blessed we were to have her as our baby. She was tiny, fragile and so precious.
"I'll never forget the time we shared," the former Socceroo revealed.
The much-liked centre back added that he made sure he fulfilled his fatherly duties immediately after the tragedy.
"I still wanted to be there for Minnie and be the best dad I could be, I didn't want her to ever be alone.
"I organised her cremation that day. I didn't want her in a morgue.
"I wanted to do everything for her. I put her tiny body in her coffin and travelled to the crematorium alone (while his wife was in hospital). Seeing a baby-sized coffin will be an image I will never forget. It made me feel so helpless.
"I spoke to her and said a few final words on behalf of Nel and I.
"It was the hardest thing I'll ever do. But I'm glad I did it. I did it for Minnie. I brought her ashes back to Australia with us," he continued.
Cornthwaite also talked about the sense of loneliness that he felt during the tragedy, and the fact that an injury he was facing at the time allowed him to be with his family, instead of on the road with the team.
During the time, Selangor were travelling to Bangladesh for their AFC Cup group match against Sheikh Jamal Dhanmondi Club.
"I remember calling my dad in Australia and breaking down on the phone. I sat in my car at the side of the road in a foreign country and knew I had to be strong for Nel.
"I was thankful that I wasn't away with the team, that I was there for Nel. I couldn't imagine what it would have been like for her having to cope with that alone. I guess these things (the injury) happened for a reason," the former posited.
Cornthwaite has recently joined Beards of Hope, an awareness program that calls for men in Australia to refrain from shaving from June 1 to June 31.
Under the initiative, participants will only shave their beards in September, in order to raise donation for Bears Of Hope Pregnancy and Infant Loss Support.
"The reason I want to help raise money is so that men in my situation have somewhere to turn if they need to. I still have moments when it all comes back to me and I'm not sure how long that will last," he says. "There can be a lot of guilt involved and for me speaking about what happened has help immensely.
"It's often a taboo subject, especially miscarriage. Unfortunately, it's such a common occurrence and men and women suffer in silence. bearsof­hope.org.au and now beardsof­hope.com.au do such wonderful work to help grieving parents.
"I just want to make a difference," he said.
Cornthwaite joined the Red Giants at the start of the 2015 season from Jeonnam Dragons, and helped them lift their historic 33rd Malaysia Cup title later that year. 
He left Selangor in the 2016 mid-season transfer window, and is currently back in Australia, playing for former AFC Champions League champions Western Sydney Wanderers.