L. Messi
'Complicated' – Inter Miami react to more Messi rumours as Neville addresses transfer links to PSG superstar
Argentine's contract expiring in France
No extension agreed as yet
Move to America speculated on
WHAT HAPPENED? The seven-time Ballon d'Or winner continues to see questions asked of his future at Paris Saint-Germain after entering the final six months of his current contract with the reigning Ligue 1 champions. Fresh terms in France have been speculated on at length, but a switch to America for the World Cup-winning forward has also been discussed and David Beckham's Inter Miami are expected to lead any chase for Messi if he were to become available – be that in 2023 or beyond.
WHAT THEY SAID: Miami boss Neville has told reporters when asked about the latest rumours suggesting that Messi could be lured to MLS at some stage: "For us, the landscape's not changed at all. With any deal for any DP of the level you're talking about is complicated, it takes time. Rest assured we're working every second of every day to bring in the best players, and I think he's one of the best."
THE BIGGER PICTURE: Inter Miami captain Gregore echoed the words of his coach when asked what it would be like to play alongside Messi: "It can happen. If Messi comes, I'll be really happy. Imagine working with Messi. Why not?"
IN THREE PHOTOS: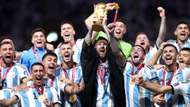 WHAT NEXT? Messi is expected to commit to at least one more year at PSG, as he remains in European football for now, but the mercurial 35-year-old has hinted in the past that a future move to the United States would appeal to him.